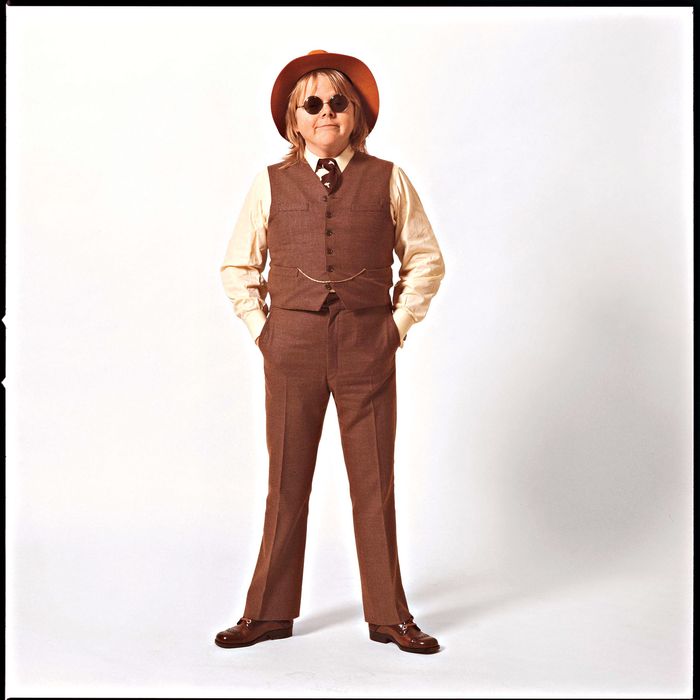 Williams in 1970.
Photo: Jim McCrary/Getty
Not 30 minutes into dinner with Paul Williams — legendary singer-­songwriter ("We've Only Just Begun," "Evergreen," many more), Me Decade late-night regular, and now semi-willing star of a new biographical documentary — and I'm already nose to nose with a great heresy. "Gonzo is my favorite Muppet," admits the huggable homunculus who wrote "The Rainbow Connection," that great, Kermit-affirming anthem. The man who was The Seventies is now in his seventies, and has passed from his acceptance-hungry frog years through a rough, druggy middle-period into that reflective, blue-avian-mutant stage of life all great talents hope to achieve. "Gonzo," he explains, "is this weird little spiritual creature: a landlocked bird. I'm an old skydiver. We're all landlocked birds." To underline his point, he warbles: "If we could, we'd all be flying. / I've always felt that deep inside. We're trying, we're trying."
That's from Williams's "We Could Be Flying," a dreamy, nostalgic track about a return to some half-remembered, half-imagined home in the sky. It also happens to approximate the mood of Paul Williams Still Alive, a documentary that began as an ambush. Gonzo may be Williams's favorite Muppet, but Williams himself is the preferred plushie of Stephen Kessler, a filmmaker best known (until now) for directing Vegas Vacation. When Williams first found himself in the crosshairs of Kessler's camera, he was reluctant, even hostile: "There's nothing more pathetic than a little old man saying, 'Please sir, may I have some more fame?' " He quickly intuited the kind of where-are-they-now picture Kessler was after: "Steve would've loved to find me living behind somebody's garage, playing an electric organ at the Red Robin, wearing a Kermit on my hand." But in the course of making the film — an unctuously intrusive cinematic journey that takes this odd couple to the Philippines and back — Kessler "went from stalker to brother. The film made us, and made us friends."
Rehabby nostrums like these fall out of Williams's pockets like Werther's Originals. "I've got Hallmark cards in my DNA," he says. "I write what I call Ouch Mommy songs: 'Pick me up and love me.' " These include hits for the Carpenters ("Rainy Days and Mondays"), David Bowie ("Fill Your Heart"), and Three Dog Night ("An Old Fashioned Love Song"), among others. He also made himself a mainstay of the New Irony with dozens of half-baked appearances on game shows and late-night, before hitting a wall (made of solid cocaine) circa Ishtar. (He created the "believably bad songs" performed by Warren Beatty and Dustin Hoffman's hapless songwriting team, "which aren't easy to write").
Isolated and paranoid, his marriage a shambles, Williams was finally persuaded to get help. "Seven months later, I'm in Jamaica, by the pool; I've been up half the night working on a song I think is brilliant. I get two hours' sleep, I play the song and realize I've rewritten 'O Little Town of Bethlehem,' " he sighs. "Guy walks by at that moment with a tray and says, 'Would you like a rum-and-Coke?' And I was off and running." He got clean again in 1990, and this time, it took.
Now he's proud of his recovery. Proud enough, in fact, to leave the awkward stuff in a documentary about his life. "I'm the most grandiose vapid shallow arrogant little fuck," he says of the more embarrassing footage Kessler dug up. "But what I realized was, including the dirt was what gave it an arc. It's a combination of a Hope-Crosby Road picture and Celebrity Rehab."
Between testimonials, Williams has plenty to do, whether it's drafting new tracks with Daft Punk or serving as president of ASCAP, the songwriters' copyright lobby in Washington. And he thinks up Muppet pitches all the time. One comes to him at the table, perhaps inspired by his D.C. junkets: "Kermit is Everyfrog; he's Mr. Smith Goes to Washington." Those slightly mismatched eyes twinkle. No longer high, but still flying: Paul Williams's life remains a charmed-Everyfrog movie. Shot gonzo style.
Paul Williams Still Alive. Directed by Stephen Kessler. Abramorama. PG-13.



This story appeared in the June, 11,  2012 issue of New York Magazine.