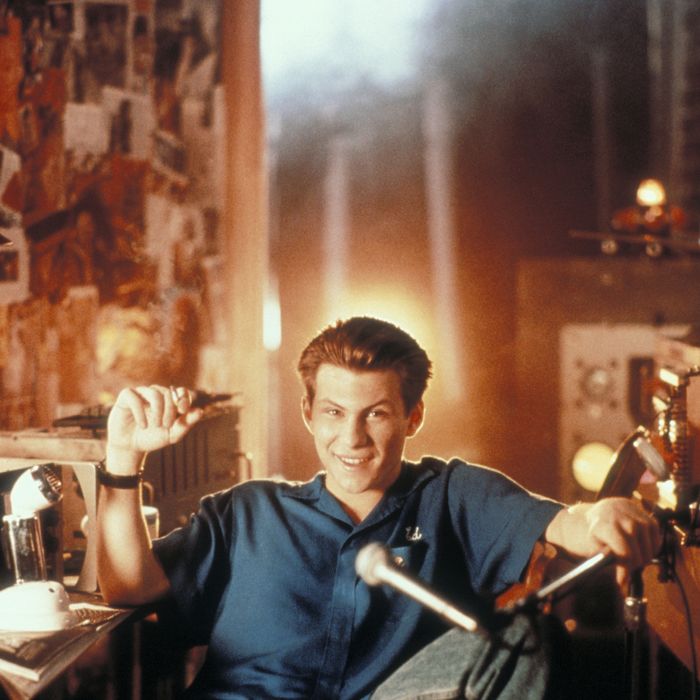 Pump Up the Volume hit theaters in 1990, starring teen idol Christian Slater as Mark Hunter, a shy high-school student in suburban Arizona by day and a pirate radio D.J. who goes by the name of Hard Harry by night. Hunter's profane missives incited rebellion in his peers and won him the attention of an equally outspoken, gothy girl named Nora (played by a 19-year-old Samantha Mathis, making her film debut). The film didn't do much at the box office — it was largely marginalized as a cute little teen-angst flick with a good soundtrack — but it found a cult following on VHS. And now it may be headed to Broadway.
A rock-musical interpretation comes courtesy of Jeremy Desmon (book and lyrics) and Jeff Thomson (music). Earlier this week, an ad hoc cast including Rock of Ages and American Idol alum Constantine Maroulis and Broadway crossover Leslie Odem Jr. (Smashed) performed eleven finished songs for the first time in New York at Joe's Pub. The show was completely sold out — a few desperate souls were even parading up and down the ramp in front of the venue hoping for an extra ticket — and although most of the people inside were theater nerds, there was one very important celebrity guest in attendance: Samantha Mathis herself, in all black and scarlet lips. She was there with Sandy Stern, an original producer of the film. "On a personal note, this is so surreal," the actress said. "I can't believe we made this film twenty years ago. This is the first time I'm hearing the songs and they really do capture the spirit of the movie."
The elephant in the room, though, was that the musical uses none of the songs featured in the film, and those tunes — particularly Concrete Blonde's cover of Leonard Cohen's "Everybody Knows," which is Harry's on-air sign-on music — are like their own characters. Onscreen, tracks from the Beastie Boys, Sonic Youth, the Pixies, and the Descendents all perfectly encapsulated the sound of teenage alienation; Desmon and Thomson are attempting to conjure that same degenerate rock energy without any of those nostalgic sounds in play.
And they seem to be pulling it off. Thomson's score is an admirable blend of musical theater's signature piano-driven balladeering with real rock swagger. "Children Be Good" is bratty in a Kim Wilde kind of way; "When Harry Comes On" has the gnashing guitars and a propulsive bass line borrowed from the Clash or the Sex Pistols; and though he said he garbled a few lyrics, that Maroulis kid really sold the hell out of the show's title number, which features a Beastie Boys–ish bass line and rap-sung lyrics, then opens up into a dark and twisted banger reminiscent of Rage Against the Machine. 
Pre-gig, Desmon explained why now is the right time for a Pump Up the Volume musical. "It's about a shy outsider who can only communicate behind the mask of this pirate radio shock jock," he told us. "I feel like we're living in this weird time where everyone projects into this cacophony of the Internet and we have such overload it's kind of come full circle. It used to be that nobody was speaking, now nobody is listening." Hopefully somebody on Broadway is listening now, so this show can find its way there soon.