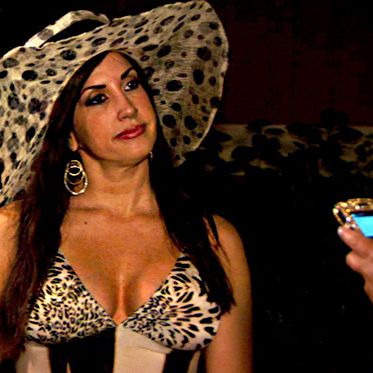 Before we begin, my favorite detail of this entire episode, aside from Joe Giudice's unsurprising lack of Titanic trivia knowledge, is that Jacqueline married Chris in gray pants and a black shirt in a gazebo, probably the same Freehold-area one under which multiple friends of mine were fingered at junior prom. Ride or die.
We're in Chi-town eagerly awaiting the nuptials of Caroline's brother Jaime to his partner of thirteen years, Rich, and everyone's hanging in the hotel scrutinizing Teresa's latest tabloid cover (In Touch: "I'm Terrified Of Being Poor," featuring a strange puppy — which, given Tre's fear of dogs, thanks to her "sweet blood," seems to have been procured from the ether.) In the piece, Tre's insisting that Caroline & Co. have been bullying her for her financial problems, and Caroline insists that her words have been twisted. The Manzos and Greg drink bellinis and toast to taking the high road.
Nevertheless, it's hard not to feel bad for Tre's Cat on a Hot Tin Roof–ish domicile; as she awkwardly straddles and dotes on abusive monsterhusband Joe Giudice, she asks him wheedlingly when/why he bought the K-Y Touch on the nightstand. ("I just wanted to see how it felt," he mumbles, shoving her off.) He sexually shames and rejects her so much that I half expect whatever exists behind that freakishly tiny forehead will eventually melt and she'll show up in the next scene tossing flowers and spouting a bawdy, mad Ophelia monologue.

"I gotta tell you, the one thing I can say about gay people is they keep everything very nice," Joe Giudice is sure to say on-camera, as if this statement will rectify (LOL pun) the fact that last week he told Greg that he probably had "the loosest butthole" there.
Still desperate for affection, Tre says she's taking a cue from Jaime and Rich and wants to kiss Joe every time someone says "love." "Your breath smells like hot dogs from last night," he replies. "No, it smells like your hot dog," she shoots back all sassylike, and we're all reminded that, as the moments, minutes, hours pass by, we're that much closer to death.
Something kind of insightful (for Caroline) that Caroline says about Tre this week is that she's a "hit and run"–type victim: Before you can defend yourself, she's gone, and you're left looking like the asshole. We've seen this in action with Melissa and Joe Gorga most prominently, and when Jacqueline semi-confronts Tre about the In Touch article, she's her typical blame-shifting self, saying the magazine totally took control of the story and immediately changing the subject to the next cover story, about herself and Joe Gorga's crumbling marriage. I mean, their perfect, non-cheating, non-abusive, awesome marriage that's awesome and great and put a bird on it!
"We're gonna renew our vows!" strangle-chirps Teresa, a crazed look in her eye.
"Riiiight," says Jacqueline.
And yet, somehow, everyone manages to fit their inflamed-labial-looking hats on the party bus and the Merlot's aflowing. Chris suggests that everyone talk in an English accent and, for the second time in twenty minutes, Teresa confuses Kate Middleton with Kate Hudson. Chris Manzo straight-up looks like a fatter Bradley Cooper. Someone mentions that the Gorgas are getting their house redone.
"So now she has a redone home?" Jacqueline asks casually, harkening back to an offensive dig of yesteryear. She is killing it today.
Chris Laurita announces that blk will be representing Levendi wine and the whole crew's going to need to take a trip to Napa, which Jacqueline acts really faux-confused about because he invited the whole party bus along ("Why would he do that after all the drama?" Because this is a TV show, Jacqueline.) Teresa acts all innocent and fake and shit, which Caroline hates. ("You and your hat, shut up.")
Joe Giudice calls Teresa a whore and a bitch repeatedly. He also compares Lauren to the Unsinkable Molly Brown without knowing what her name is. Molly Brown, I mean. He knows Lauren's name, I think.
"You mean the fat one?! The Unsinkable Molly Brown?" Lauren snaps, but is sort of laughing, because this is just a shallow cut in the deep well of hurt and self-esteem issues that these families have given her.
"Who? No." says Joe Giudice, "You guys know the rich lady who talked a lot?"
"Yeah, the Unsinkable Molly Brown," wails Lauren.
Back in dirty Jerz, Melissa does indeed have a redone home, God bless her, and she's hosting a pool party down on the shore, rocking one of her signature J. Lo-circa-2001 hair/fringed halter outfits. (Describing the rager: "Joe will take his shirt off, Rich will take his glasses off.") It's very telling to me that Melissa's kids love Kathy Wakile, as she seems like the only half-decent parent up in this bitch. Naturally, the In Touch is whipped out almost immediately.
"Whose dog is that?" asks Kathy shrewdly. "This [magazine] is good for firewood."
Meanwhile, the gay wedding is, unsurprisingly, one of the classier things we've seen this season of the show, or maybe ever, even with a B-roll shot of someone unceremoniously chucking a swan into the pond. Jacqueline wore gray and black to her wedding to Chris. Jaime and Rich and their dogs make their entrance on a horse-drawn carriage, and all of the husbands look pretty solemn and uncomfortable, particularly Joe Giudice, who is twisting his 'roided-out skullface muscles into a patented Don't Continue to Think I'm a Bigot Smile. Jamie and Rich make very sweet speeches and cry, and then Caroline's up with a surprisingly competent, short speech about making a mountain move. ("Rich, you're my brother now. You're part of the family." God help you, Rich.) And then a bunch of monarch butterflies burst out of a box and fly into the heavens.
Back at the Gorgas' (REDONE) home, Joe Gorga announces that Melissa has a new song called "Rockstars." It comes over the speakers and he dances to it like a Chippendale Frankenstein, officially Getting This Party Started, etc. Richie, usually the voice of reason, takes Joe Gorga aside and tells him to text Teresa again about therapy, just to make it clear that he's trying.
Teresa stares at her bejeweled cell phone, ostensibly looking at the text Joe Gorga just sent her about repairing the tenuous bonds of their sibling love — oh, wait, no, she's ignoring that text, this is just someone telling her that the cookbook's on the New York Times best-seller list. She gloats. Jacqueline and Caroline make derpface. Finally, the fresh Gorgatext is discussed in front of a Buddha statue, but nothing new is divulged regarding the therapy debate, except that Jacqueline seems to finally be losing it with this Möbius strip of retardation.
"We like to keep it classy, and yet sexy at the same time," Melissa says as we cut to Kathy and Rich devouring each others' faces and Joe Gorga being sprayed with whipped cream. The episode ends with Rich and Jaime's ceremonial wish lanterns being released into the night sky and Jacqueline wishing that Tre, like Jaime, could just be who she is and really be happy, which is weirdly touching even though Tre is irretrievably gone to batshit at this point. It appears that next week, for a nice change of pace, they scream at each other. See you then!