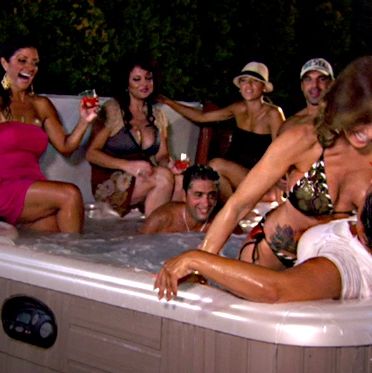 Gia is being hormonal and eats waffles with her hands, and everyone unfathomably blames this on Teresa and Joe Gorga's falling out rather than being a 10-year-old under filmed surveillance at all times. However, Tree is nurturing and (dare I say) motherly — if sort of condescending — when she explains to Gia that she'll work it out with her brother because despite it all, she still loves him. Meanwhile, across the Monopoly board, Kathy is nurturing and sisterly — if somewhat condescending — as Rosie sits her down for a Very Special Talk About Her Sexuality. Apparently, Rosie didn't come out until they were well into their thirties. Is it me, or would this show be better if it was all about the Wakiles?
Joe Gorga shows Melissa one of the big, empty buildings he renovates for a living, intimating that he is trying to turn her on. He pronounces the word cojones like "kahunas." Mellissa points behind him and yells, "G-G-G-GHOST!" She is trying to fool him. But you can't fool Joe Gorga, motherfuckers.
"Speaking of family," Joe Gorga transitions awkwardly after they have determined there is no ectoplasm nearby. Once again, they discuss the war with Tree. He is going to send her a text. "A mean text or a nice text?" asks Melissa, which inadvertently sounds like a Girls episode title. None of the above: a therapy text. Teresa, who is sunning with Kim, does not bite. And dude, I will never get over her intensely rhinestone-encrusted phone. I'm sorry, I just won't.
"You don't need to see a therapist," lies Kim.
Brothers and sisters don't go to therapy, asserts Tree. Same old argument: If Joe Gorga wants to go to therapy, he can go with Melissa so she can "support him." They're old-school. At this point, with all the weirdness that has gone down with Joe Gorga and Teresa (and the fact that she's so jealous of his wife), there is a small and sickening chance that "old-school" means "incest" or some other sexual weirdness with these two. Either that or I need therapy.
On the bright side, Lauren Manzo is so chill. "Caroline Manzo doesn't wear hats," she jokes with her mom when they discuss the dress code for Caroline's brother Jaime's upcoming wedding to partner Rich, which is #florals and #pastels and #hats. Of eleven siblings, Caroline is one of the few who are going, and Jaime asks her to make a speech or "develop something," clearly in denial that the only two things that she is capable of "developing" are eggplant rollatini and menopause.
Meanwhile, Tree and Jacqueline, the show's silver-medal abusive relationship next to Tree and Joe Giudice's gold (9.5! 9.5! 9.5! 10.0!) passive-aggressively mommy shame each other and discuss the therapy thing as Milania plays on the floor in a bathing suit like a Lord of the Flies savage. She wears Teresa's platforms. It feels weirdly metaphorical.
"You and your daughter [going to therapy], I can understand it." say Teresa regarding Jacqueline and A$hley. She then swears on her children that she doesn't have problems. Yikes.
The upcoming gay nuptials seem to be serving up a pipin' hot plate of tolerance to everyone in Franklin Lakes, and glorious unicorn Rosie takes this opportunity to take Kathy's kids out and let them know that she didn't choose to be gay "because it's cool" in this crazy, accepting, Interweb-drenched, Glee-ringtoned world of Victoria and Joseph, but because God made her this way.
"Do you have any questions for me?" asks a tearful Rosie. Victoria and Joseph's reactions perfectly illustrate the difference between boys and girls at this moment: Victoria cries. "Do homosexual people … have … gaydar?" No, says Rosie after doing a batlike impression of what she imagines gaydar sounds like. It also feels pertinent to point out the common phenomenon of family discussions going down at pizza joints. In fact, your recapper is from New Jersey and my father announced that he was leaving my mother at a Goodfellas Pizza. (But not for Goodfellas Pizza.)
In the next scene, Chris and Joe Giudice and their wives demonstrate the very old-schoolness/discomfort that Rosie was just talking about with gay jokes aplenty as they prep for the wedding. "It'd be nice to have a weekend alone with Joe [Giudice] and hot gay men," says Teresa. Ugh, Teresa, put it away.
Ha-ha, A$hley update: Jacqueline's ex Matt says, "She's worse than before. She does nothing around the house, and she's just along for the ride."
Rosie driving Richie's red convertible is the best thing that's ever happened. As the bottle girls (is that what they are? They remind me of a Jersey Shore version of the sirens in O Brother, Where Art Thou?) set up, Richie tries to determine what Rosie's exact M.O. is with the ladies and it comes off incredibly creepy, although I do like their special bond. "You think she's hot? Sexy?" They're Victoria's age, Rosie points out reasonably. "I wouldn't know what to do with that."
"I have sweet blood," says Tree regarding bugs.
Everyone arrives at Jamie and Rich's house, which was constructed with the Tree of Life concept in mind (original concept, not Terrence Malick movie). It is significantly nicer than the Wives' houses in sort of an Anthropologie, moms-would-like-it way. What do they do for a living that they can afford planting a goddamn tree in their house? Too lazy to Google. Everyone is worried about Joe Giudice and his raging homophobia; he tells a story about the gayest thing he's ever done. If you were interested, he compared dick sizes with a friend as a kid ("We had our dicks out like two gays!"), which is awkward and weird but not that bad for Joe Gorga.
Rosie goes nuts over a cute woman named Heather, who planned the event. Everyone's pushing them together even though Heather is straight and her massive, handsome black boyfriend is present (whom Joe Giudice refers to as "my brother" at one point, cringe). As all present get shitfaced and jump in the hot tub, Heather announces that she is "OMG, the only girl in a bikini!" and drunkenly Jessica Rabbits all up in Rosie's shit, rubbing parts on parts, etc. Heather is a motherfucking tease.
"Stop acting like a straight white girl," someone tells Rosie when she gets drunk and emotional. Word.
Finally, Joe Giudice outdoes himself when he tells gay family friend Greg that he probably has "the loosest butthole here," which I would argue only may be true because A$hley is in Vegas. Next week, we frolic at Rich and Jaime's big, fat gay wedding and the whole episode will be performed onstage as a one-man show by Chris Colfer. Deuces.