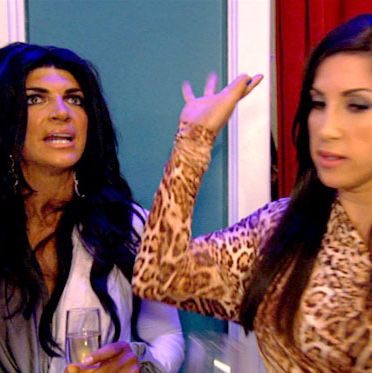 It feels important to note that Caroline Manzo is inexplicably promoting the new movie People Like Us starring Elizabeth Banks.
The Manzos remain the Bradys of this show, with the resplendent mini-greyhound-looking family dog Austin as a breakout star. As Caroline irately does dishes, they chill on the front lawn, where Chris Laurita comes bearing wine and thought-provoking discussion regarding the throwdown between Jacqueline and Teresa last week. We also see the effects the fight had on both women. Jacqueline, in the throes of a "complete breakdown," hyperventilates in the bathroom. Meanwhile, at the Brokedown Palace, Teresa reveals to Joe Giudice that she ran to dark horse Dina after her fight with Jacqueline to get the hit of "real friendship" she was tweaking for.
"[Jacqueline] was like, 'Oh my God, you didn't tell me [you might be going to jail, something any good friend would be concerned about in the Actual Real World, in which I do not own a parking space?]?!' It's like, "Stop being fake," gripes Tre. As usual, Juicy Joe provides a productive and perceptive counterpoint to Teresa's emotional problems. "She's like a dodo bird. Durrhurrdurrhurr," he says, google-eyed, and when he gets bored of talking about it: "I already told you what to do, just move on." This is doubtlessly verbatim what he says when he's sticking his roid-shriveled junk to her. 
Naturally Tre's recourse is to call cousin Kathy Wakile — who is gardening in a straw hat like the fucking street-level individual she is — about getting together, and Kathy immediately has her suspicions about ulterior motives. She is right! Tre is attempting to assemble a crew of bedazzled-iPhone Sharks to ballet fight against Caroline and Jacqueline's pear-shaped Jets. Cool! Yeah! Cool! Go! 
"You have to forget about the past and move forward and make things better," says Tre, doing the opposite of this.
Speaking of TV's Ryan Seacrest (we were, right?), Melissa Gorga applies makeup for a phone conversation (yes) with TV's Ryan Seacrest, who is going to play the remix of her new single on his show. After having an assistant intro him on the phone as if he were a very important person, TV's Ryan Seacrest keeps saying, "'On Display' by Melissa Gorga," as if to make sure his listeners will distinguish it from "'On Display' by Seinfeld's Wayne Knight" or "On Display — Not Ryan Seacrest's Sexual Orientation." 
"It's a song about empowerment," Melissa explains. "You're on display when you enter a new family." Joe Gorga fist-pumps proudly. I still think they're paying off the producers to make their marriage look good; there is no WAY you'd have that much patience if your wife had a penchant for hard-releasing songs that sound like Kylie Minogue falling down a flight of stairs and throwing roughly fifteen gaudily expensive debut parties per single. "I don't necessarily think that Ryan likes my song, but now we just sit and wait for the world to judge," says Melissa about a wait that was over before it began.
It's foreplay o'clock at the Giudice house:
JOE
"I can't find da koi anymore."
TRE
"Maybe the stork ate 'em."
Tre is having a hot flash of rational thought and is actually considering attending therapy with Joe Gorga. It turns out that Joe Giudice was sent to therapy as an 11-year-old Clockwork Orange droog and hated it. He is "embarrassed for" Tre and her brother for choosing to go. "As far as I'm concerned, he's not your brother anymore, he's your sister."
The Gorgas reveal en route to the fourteenth party for "'On Display' by Melissa Gorga" as introduced by TV's Ryan Seacrest that "'On Display' by Melissa Gorga" as introduced by TV's Ryan Seacrest is being hated on by the laconic, faceless mass of Twitter, which provokes Joe Gorga's vitriol toward mean commenters. But the nastiness of the Interwebs hardly matters when you're on the cover of Boardwalk Journal magazine as "Lady Gorga," not to mention when you are the proud owner of a dress made of chain mail, gold plates, and the strained retinas of child sweatshop workers.
Caroline and Jacqueline immediately start involving poor Kathy in the Tre situation, which makes Kathy "sad," which would be kind of hard to explain to anyone else on this show. It's an "emotion" – actually, forget I said anything. Tre glides by Jacqueline to go talk to Joe Gorga about therapy, suddenly all about the idea. It appears that now that she's transferred her wrath onto Jacqueline, she's ready to be reasonably sane with the Gorgas. Rosie and her driver's cap are completely shitfaced. She's saying she loves everyone and kisses Joe Gorga on the mouth. Once again, that is some straight-girl-type shit.
Finally, as Joe Gorga casts flowers upon her like she's about to be sacrificed to an Incan god, Melissa Gorga debuts the previously debuted "On Display." Like so many sorority girls before her, Jacqueline sways halfheartedly and tearfully to the remix of a worthless song at a party, occupied with the drama at hand. Finally, she confronts Tre as the Manzo boys stand a few paces away providing commentary ("'If you were really mad at me, you'd flip a table at me, right?'" "This is making me never want to get married.") Jacqueline asserts correctly that Teresa is the master of "flipping" arguments around, and Tre is like, "She's being such a psycho bitch," and it's basically this.
We also learn another prequel to the Tre–Melissa Gorga hatred: Danielle recently tweeted Tre and said that Melissa had said shit to Danielle about Tre, or something. Like she's unleashing some long-held secret, Melissa sighs and says, "At the time, I have to admit … I hated you." Like, as if we didn't know that. "Jacqueline and Caroline punch each other in the face when they're mad at each other. I talked to one of your enemies." Fair enough.
Drunk Heather informs Jacqueline, fuming about Tre's lies and manipulation in a way we've really never seen until now, that she takes on too much from others. "Even though Heather's been drinking a little bit, she's making a little sense," Jacqueline says. Hey, Tre and Joe Gorga should just go see Heather for therapy! Or that personal trainer who was chugging Sutter Home a few episodes ago! She continues, "I put [Teresa] on a pedestal," which makes sense since Teresa was one of the figureheads of the nineteenth-century women's suffrage movement. Wait, that was Elizabeth Cady Stanton. See you next week.