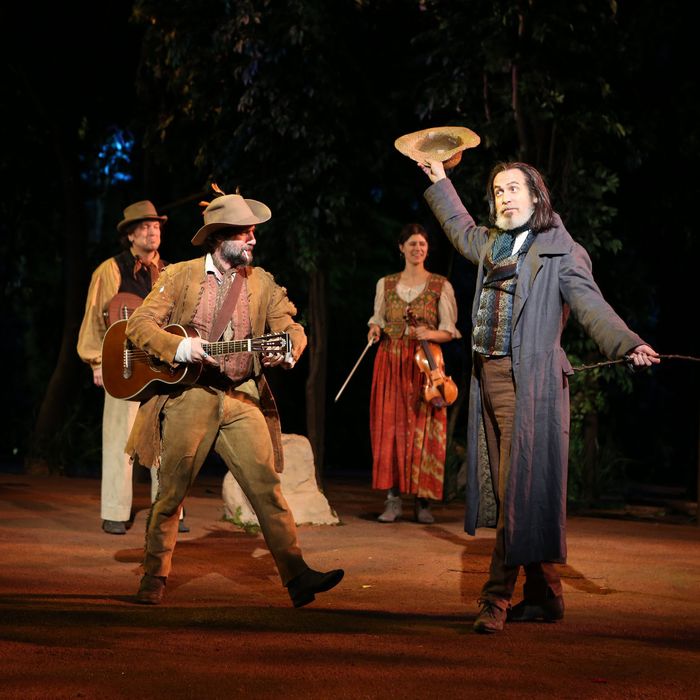 As You Like It is a crowd-pleaser by charter. (It's right there in the title.) And director Daniel Sullivan, after two summers of moodier outings in the Park (The Merchant of Venice, All's Well That Ends Well), has taken that brief very seriously indeed: There's nothing here but pleasure and pleasantry, making it a fine but minor dish on his long table of Delacorte delicacies. Working off a faintly cartoonish "Frontierland!" theme — rifles, slouch hats, and the sort of oily buckskins and asphyxiating corsetry that slow-cook actors right before your eyes — Sullivan has delivered a consistently winning, persistently inconsequential production of Shakespeare's wooliest cross-dressing comedy, to the amiable autopilot beat of Steve Martin's toothsome bluegrass tunes. (Martin, it turns out, is quite the gifted melodist when he's working with the right lyricist.)
AYLI is, of course, a glorious piece of literature ("All the world's a stage … ," "Your 'if' is the only peacemaker; much virtue in 'if'"), full of deep summer magic: an interchangeable pair of Dukes (both played by Andre Braugher), one a cruel banisher, one happily banished, more alike than different; a magical forest that's enchanted with humanism and biophilia (not cheap fairy magic), and gorgeous lyric reveries on the paradox of any paradise that has people in it. But the play, in production, nonetheless cries out for a firm hand — and, finding none, immediately begins to ramble into a series of jam-band-style virtuoso solos.
Then again, you couldn't ask for better soloists. Lily Rabe's hyperactive drag-king Rosalind and Stephen Spinella's brooding ex-libertine Jaques both succeed, the first by busily aiming to please, the second by barely moving a muscle. Rabe is, strictly speaking, too throaty and wry and self-possessed a grown-up for the girlish, puckish Rosalind, but she compensates by approaching Shakespeare's craftiest comic heroine as an adult given a second shot at childhood. She's got velvety chemistry with her love object, the likable lunk Orlando (a charming, sincere David Furr), and a peppy if somewhat empty dynamic with bosom pal Celia (Good People's good girl Renee Elise Goldsberry), her cousin, childhood pal.
Why empty? Well, to develop Rosalind and Celia's relationship into something substantial, we'd need a better notion of what's at stake in the wider world of the play — Rosalind being the gentle Duke's daughter and Celia the usurping tyrant's. This is where we reach the ragged frontier of Sullivan's frontier: What does it really mean to set As You Like It on the cusp of American "Manifest Destiny"? It could mean a great many things, most of them a bit grim. But while men in gray wool walk the palisade, rifles at the ready, we never get any sense of what they're afraid of, what they're guarding against, or what they're preparing to conquer. Despite the fact that Orlando's abusive older brother Oliver (Omar Metwally) dresses like Simon Legree (and, later, receives a compensatory lashing from a black authority figure), there's no serious injection of slavery into the mix of oaty images. (And absolutely no Native Americans, of course: That would certainly make Arden a more morally complex forest than this production could handle.) Darkness arrives only in the form of prerecorded cinematic underscoring, a crutch Sullivan uses so invisibly and effectively, year after year, we barely notice that it is, in fact, a crutch. The entire framing concept is something of a dodge, a matte painting of a fake sunset.    
But I carp, ill-temperedly and Jaques-like. Sure, this may not be the most robust As You Like It ever staged, but it is damned near impossible not to like. Who can resist Oliver Platt's vinegary Touchstone, the epicurean court jester unleashed on the unsuspecting "country copulatives" of the forest. And how about those copulatives? Will Rogers, Jon DeVries, and the irrepressible Donna Lynne Champlin (as the insult-proof walking farmer's-daughter joke Audrey) all get their licks in as rude herdsfolk with foibles of their own. The forest twitches to the relentless picking-and-grinning of a roving bluegrass band, organized flawlessly by music director Tony Trischka and fronted by warbling bard Amiens (Jesse Lenat). And then, of course, there's Spinella's Jaques, the downer. His impact somewhat amputated by the production's staunch refusal to consider itself as anything more than shimmery summer entertainment, Spinella (barely recognizable beneath a razor-sharp two-tone chin-beard) still manages to anchor all the merriment in something a shade less transient. "More," calls Jaques to the smiling picker-grinners when the music stops, his voice as devoid of excitement as a becalmed pond, "more." He asks for more, but his tone says "enough." Maybe he's right, twice-over.