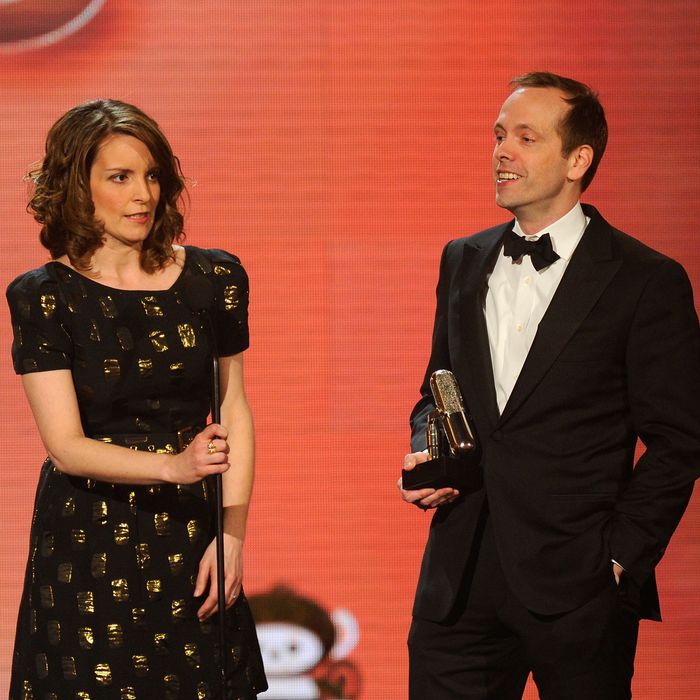 30 Rock's Tina Fey and Robert Carlock winning the Comedy Writing prize at 2011's First Annual Comedy Awards.
Photo: Dimitrios Kambouris/Getty Images
Last year we grilled some of TV's top showrunners about their work and insights into television. This year, with the Emmys approaching, we decided to go back to them with a shorter speed round, firing them questions about their love of TV: What's the hardest thing to pull off? Which character do they wish they'd invented? We'll be unrolling their smart and funny responses for the next week, and we kick off the series with Tina Fey's off-camera partner Robert Carlock.
What's the first TV show you remember being obsessed with?
I assume you're asking about some kind of rational young adult's fixation, but I don't know the difference between my eagerness to watch Sesame Street and my eagerness to watch, say, Twin Peaks. They both made me talk way too loud when telling my friends how great they are/were.

True or false: When I was growing up, the day the TV Guide "Fall Preview" issue came out was almost as good as the last day of school.
I would devour that thing. But I actually liked school, so the question is flawed.

Which show would you like to do a crossover event with, and why?
The Honeymooners, because to pull that off I would need to have a time machine and then I could use the time machine to go back and ride a dinosaur.

If you could bring back any killed-off TV character for just one more episode, who would it be?
Ned Stark — oh no, spoiler alert! Sorry. But come on, catch up. That was a year ago.
 
Do time slots still matter? Explain.
I think they are very important to the people who make dry erase boards with lines on them that executives write TV schedules on. Time slots are crucial to that industry.

Pick one character from your show; which reality show would (s)he be most suited for, and why?
I think Jack Donaghy would do pretty well on The Apprentice. Id est, he would win, fire Trump, and produce President Obama's birth certificate just out of a sense of fairness.

Which character do you wish you had created?
Anyone on Cheers or The Simpsons.

What was the biggest creative misstep you ever saw made by a show you love?
In 1996, Lorne Michaels hired me to write on Saturday Night Live. Ever since, I haven't been able to watch that show without getting angry.

If you could let your kids watch a single episode of your work, which one would it be and why?
I guess "Apollo, Apollo" (30 Rock). Tracy flies in a rocket ship; every character appears as a Muppet. But I don't think they'd appreciate the thematic subtleties. Idiots.

Which writers' room in all of TV history would you most like to have gotten to sit in on?
Probably Hogan's Heroes, so I could be the guy constantly complaining that the black guy cannot dress up as an SS soldier. It just beggars belief. I would be fired.

Finish this sentence: The hardest thing to pull off on a TV show is …
To end it on one's own terms.