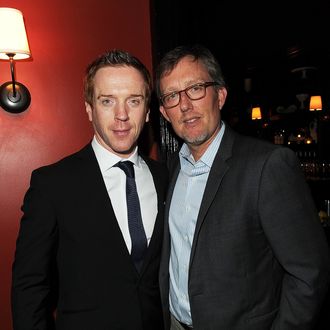 Photo: Jason Merritt/Getty Images
On Homeland executive producer Alex Gansa's wish list: Carrie vs. Jess, ping-pong-style. Read his answers to our Vulture Showrunner Survey to find out why. Plus, which of Carrie's colleagues would make a great Idol judge? (Hint: He'd also be great on Smash.)
What's the first TV show you remember being obsessed with?
Kung Fu, starring David Carradine.
True or false: When I was growing up, the day the TV Guide "Fall Preview" issue came out was almost as good as the last day of school.
True. I'd be surfing both days.
Which show would you like to do a crossover event with and why?
I want a ping-pong playoff with New Girl. They work across the hall from us.
If you could bring back any killed-off TV character for just one more episode, who would it be?
Omar Devon Little from The Wire.
Pick one character from your show; which reality show would (s)he be most suited for, and why?
Brody would rule Survivor. And Saul would make a great judge on American Idol.
If you had an unlimited music budget, which artist or group would you hire to compose the soundtrack for your show?
I'm not sure we could do any better than Sean Callery.
Which character do you wish you had created?
Omar from The Wire. The idea of a bad guy with the moral code to only prey on other bad guys is just fantastic.
What was the biggest creative misstep you ever saw made by a show you love?
The last image of St. Elsewhere, in which the entire series is seen to have existed only in the mind of an autistic child.
If you could let your kids watch a single episode of your work, which one would it be and why?
The pilot of Homeland, for the single reason that it's the best thing I've ever been a part of.
Finish this sentence: The hardest thing to pull off on a TV show is …
A good night's sleep.