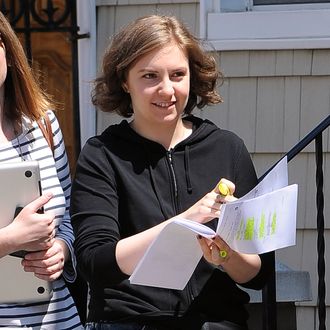 Girls capo Lena Dunham
Photo: Doug Meszler / Splash News
Earlier today we kicked off the latest incarnation of our Vulture Showrunner Survey with 30 Rock co-chief Robert Carlock revealing his wish to occupy the writers' room of sixties absurdist comedy Hogan's Heroes. We thought it was a random answer, until we saw how Girls creator and star Lena Dunham answered the same question. Read on to find out which seventies sudser she wishes she could beam down into, plus why Shonda Rhimes definitely needs to set a meeting with Dunham.
What's the first TV show you remember being obsessed with?
Under the Umbrella Tree, a Canadian children's show with talking gophers and such.
True or false: When I was growing up, the day the TV Guide "Fall Preview" issue came out was almost as good as the last day of school.
I liked the People magazine plastic surgery before and afters.
Which show would you like to do a crossover event with and why?
Grey's Anatomy. Hannah goes to Seattle to meet a freegan she's fallen in Internet love with, thinks she has bedbug bites, and is treated by Meredith Grey, who explains a lot about self-respect that she wishes she'd known at 24.
If you could bring back any killed-off TV character for just one more episode, who would it be?
I feel like I don't watch that many shows with death. Usually people move away. But Christopher Moltisanti did come to Girls and that was pretty cathartic.
Which writers' room in all of TV history would you most like to have gotten to sit in on?
Mary Hartman, Mary Hartman. I just want to know how that was being discussed, what they thought they were up to, how they generated so much madness.
Finish this sentence: The hardest thing to pull off on a TV show is …
Reality.
Do time slots still matter? Explain.
I have no idea! I'm sorry, sounds so ignorant, but I just don't. They must in some symbolic way, but I also never watch anything when it is on.
Pick one character from your show: Which reality show would (s)he be most suited for, and why?
Jessa, Real World. She would not give a rat's ass about hiding her body or antics from the camera, and she would take really well to the fully supported lifestyle and faux job. She'd give the confessional cameras what they wanted. But, Marnie would also make an awesome Room Raid–er, and don't you wanna see Shoshanna on The Apprentice?
Which character do you wish you had created?
In another show? Probably Schmidt from New Girl. He just tugs at every string I have.
What was the biggest creative misstep you ever saw made by a show you love?
Obviously Felicity cutting her hair (I get it now but it was rough at the time).
If you could let your kids watch a single episode of your work, which one would it be and why?
Episode 108 of Girls. It's harsh, but hopeful.