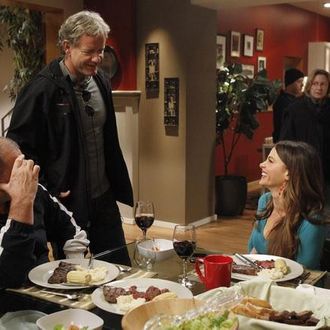 Photo: Peter "Hopper" Stone/ABC
Modern Family had another amazing Nielsen year, and it's once again a big favorite to land a slew of Emmy nods next month. While co-creator Christopher Lloyd tends to let partner Steve Levitan accept such honors, he did take the time to answer the Vulture Showrunner survey. We weren't surprised to read about his fondness for Frasier (he ran the show for years), but he did have some bold replies to questions about character creation and the hardest part of working in Hollywood.
What's the fist TV show you remember being obsessed with?
Adam-12. Super-cool characters, real-life quality, interweaving stories — all stuff we do on Modern Family.

True or false: When I was growing up, the day the TV Guide "Fall Preview: issue came out was almost as good as the last day of school.
False. Only periodical I cared about was Playboy, which was commonplace in my house since my dad wrote for it (that's right, I actually read the articles).

Which show would you like to do a crossover event with and why?
On Frasier, a network executive once suggested that one week we have John Lithgow play Frasier and Kelsey Grammar play Lithgow's role on 3rd Rock From the Sun; I've been deeply afraid of the idea of a crossover ever since.

If you could bring back any killed-off TV character for just one more episode, who would it be?
Tony Soprano, so I could know what happened to him.

Do time slots still matter? Explain.
I'd still always want a time slot that delivers an audience, so my show would get sampled, even if the network might have an itchy trigger finger.

Pick one character from your show; which reality show would (s)he be most suited for, and why?
I would like to see Gloria on any of those "dumb people from the South doing dangerous things" shows, just to hear how she would react.

Which character do you wish you had created?
Rush Limbaugh, because his combination of evil and charm make him a character audiences would always love to hate.

What was the biggest creative misstep you ever saw made by a show you love?
Can't criticize shows I love.

If you could let your kids watch a single episode of your work, which one would it be and why?
The finale of Frasier, because it has a mix of comedy and genuine heart, and because their mom appears in it.

Which writers' room in all of TV history would you most like to have gotten to sit in on?
Your Show of Shows. A Hall of Fame of comedy writers.

Finish this sentence: The biggest challenge in producing a sitcom is …
Managing egos. It's like you live in a world where shoes only come in extra large or extra small, and everyone is wearing the wrong sizes.