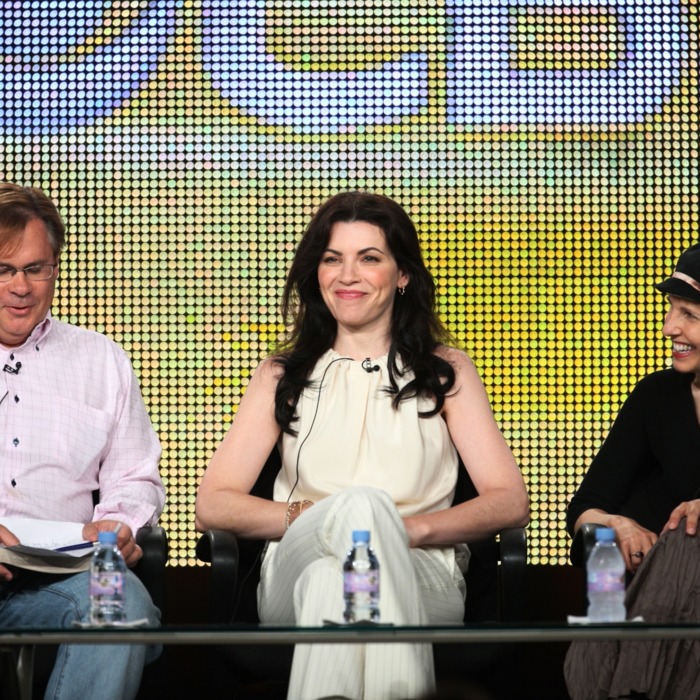 Photo: Frederick M. Brown/Getty Images
We think the world of The Good Wife husband-and-wife executive-producing team Robert and Michelle King, and they think the world of Vulture favorites Parks and Recreation and Breaking Bad. It's the TV Circle of Life! In the latest edition of our Showrunner Survey, Robert mourns the loss of Community's Dan Harmon and Michelle offers Walter White her legal services.
What's the first TV show you remember being obsessed with?
Robert: The Dick Van Dyke Show. It was in repeats, and you could see two back-to-back every day after school. But that meant you had to rush home, and even then you missed the first ten minutes. So there are Dick Van Dyke Shows that, even now, I'm finally getting the setup. A truly perfect show: insider showbiz comedy mixed with suburban family comedy.  
Michelle: Hogan's Heroes. Partly because it was inappropriately funny, and partly because it was past my bedtime.
True or false: When I was growing up, the day the TV Guide "Fall Preview" issue came out was almost as good as the last day of school.
Robert: False, unfortunately. TV wasn't as important as movies growing up.
Michelle: False. Nothing got close to the last day of school.
Which show would you like to do a crossover event with and why?
Robert: Parks and Recreation. Why? Because it's good, and most of the comedy relies on the deftness of the acting and consistency of the well-drawn characters.
Michelle: Breaking Bad. Because one of these days Walter White is going to need a good lawyer, and we're not afraid of tough cases. (And the show's terrific.)
If you could bring back any killed-off TV character for just one more episode, who would it be?
Michelle: I'd bring back every killed-off character from The Sopranos for as many episodes as possible. Because I miss them to an unnatural degree.
Which writers' room in all of TV history would you most like to have gotten to sit in on?
Robert: That's like an SAT question. There's only one right answer: Our Show of Shows and its spinoffs. Mel Brooks, Larry Gelbart, Carl Reiner, Neil Simon — a writers' room of the most brilliant comedy writers of the twentieth century. 
Michelle: Ditto.
Finish this sentence: The hardest thing to pull off on a TV show is …
Robert: A satisfying conclusion to a cliff-hanger. There is too much expectation built into it. It's an artificial narrative construct that can only be answered in an artificial way. And there's no real organic way to find it.
Michelle: The hardest thing to pull off on a TV show is … the next episode. 
Do time slots still matter? Explain.
Robert and Michelle: Yes. Networks still tend to take more chances at 10 p.m. There is more leniency in pushing the envelope later. Drama is more welcome later. Obviously a network can show greater support for a chancy show by buttressing it with already strong shows.  
Pick one character from your show; which reality show would (s)he be most suited for, and why?
Michelle: Eli Gold (Alan Cumming) would win Survivor.  

If you had an unlimited music budget, which artist or group would you hire to compose the soundtrack for your show?
Robert: Elliot Goldenthal. I think his soundtracks are the most cinematic I've heard. And they're just fun to listen to on their own. I also wouldn't mind giving Ben Folds a try. I don't think he's ever composed a soundtrack, but he'd probably be great. 
Michelle: The Beatles — but mainly so John and George could come back from the dead.
Which character do you wish you had created?
Robert: Walter White.
Michelle: Archie Bunker.
What was the biggest creative misstep you ever saw made by a show you love?
Robert: Community losing Dan Harmon.
If you could let your kids watch a single episode of your work, which one would it be and why?
Robert: That's a hard one. I've grown affectionate toward "Doubt," an episode in our first year — mostly because it was a concept episode that played with POV. It also tried to find a new variation on Twelve Angry Men. We've had more successful episodes, but I liked that it had such major ambitions.
Michelle: Probably "Blue Ribbon Panel" from season three. In part because I like it, and also because it hits the female empowerment note a little harder than usual — which isn't so terrible for a middle-school girl.