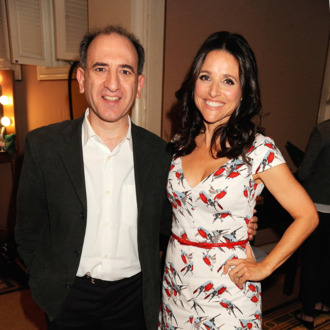 Photo: Jeff Kravitz/Getty Images
When we asked Veep boss Armando Iannucci to take a break from filming another season of British satire The Thick of It to answer our Showrunner Survey, he let us in on his big TV dreams. They involve a different finale for Battlestar Galactica and an even more horrible fate for Ned Stark. Plus, could Gary be a cylon?  
What's the first TV show you remember being obsessed with?
Strangely, I was more obsessed with radio when I was growing up. There's a great tradition of radio comedy in the U.K., and I was absolutely mesmerized by the possibilities of what comedy could do on The Hitchhiker's Guide to the Galaxy. I still have my cassette tapes of when I recorded it off the radio when it premiered.
 
True or false: When I was growing up, the day the TV Guide "Fall Preview" issue came out was almost as good as the last day of school.
In the U.K., the equivalent was the special "Double Christmas" issue of The Radio Times. It had all the details to the BBC's radio and TV Christmas Shows. 
Which show would you like to do a crossover event with and why?
The recently rebooted Battlestar Galactica. It was marvelous. I'd love to find out which one of the vice-president's staff was a cylon.

If you could bring back any killed-off TV character for just one more episode, who would it be?
Ned Stark could walk through the door to the vice-president's office, draw his sword, and then get gunned down by fifteen Secret Service guys.
 
Which writers' room in all of TV history would you most like to have gotten to sit in on?
The Simpsons. Unbelievable invention. Great stories combined with fantastic sight gags. I'd love to know how they do it.
 
Finish this sentence: The hardest thing to pull off on a TV show is …
Making the most rigidly choreographed and plotted moment seem spontaneous.   

Do time slots still matter? Explain.
Less so. There's a whole generation who watch now on laptop and tablet, and store up to watch whole seasons over a weekend. As this technology gets bundled with TV screens, this is going to be how we view everything on our home screen.

Pick one character from your show; which reality show would (s)he be most suited for, and why?
I'd like to see Dan Egan, who thinks of himself as an ambitious and natural leader, see himself whither and sweat in the jungle in I'm a Celebrity, Get Me Out of Here.

Which character do you wish you had created?
Hank in The Larry Sanders Show. Gloriously awful, yet strangely lovable.
 
What was the biggest creative misstep you ever saw made by a show you love?
I still don't think they should have found Earth in the final episode of Battlestar Galactica. But, they'd all had a tough time up till then, so, what the hell …
 
If you could let your kids watch a single episode of your work, which one would it be and why?
Episode three of Veep, where we get to meet the vice-president's daughter. That way, they'll see I'm a much better parent in comparison.