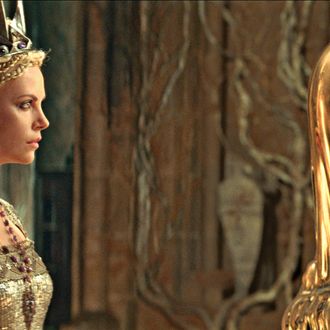 The Queen (CHARLIZE THERON) consults with the Mirror Man in the epic action-adventure "Snow White and the Huntsman", the breathtaking new vision of the legendary tale from the producer of "Alice in Wonderland".
Photo: The Mill/Universal Pictures
After girding itself for a catastrophic $40 million-or-less opening weekend (at least according to an internal Universal memo Vulture peeked at), Snow White and the Huntsman zoomed past all expectations with a $56 million opener. "There's a palpable sense of relief around Universal Pictures and even Hollywood," Nikki Finke reports on Deadline, "now that the Charlize Theron-Kristen Stewart-Chris Hemsworth starrer directed by first-timer Rupert Sanders and produced by Joe Roth is showing promise at the domestic box office." Snow White even surpassed, in three days, Battleship's three-week total. As for the other box office blockbusters, Men in Black 3 and The Avengers, they've peaked — both are down by more than 50 percent since last weekend.