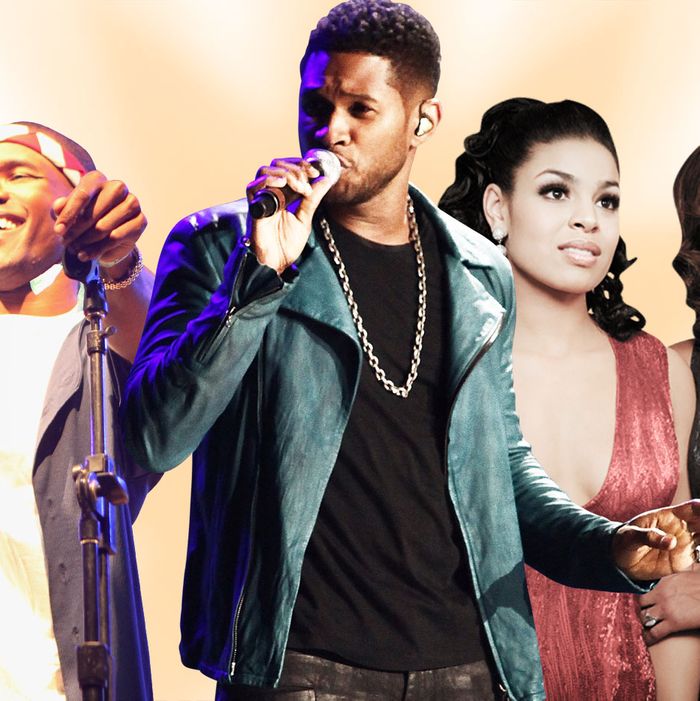 Photo: Getty Images, Sony Pictures
In honor of Usher's Looking 4 Myself, which is out today, Vulture will now turn our attention to the Song of Summer division that Usher has had sewn up since Valentine's Day. Look, "Climax" is the winner in the R&B category; it plain has to be, based on chart performance and moody excellence. But in the interest of an open and honest discourse — and also because Frank Ocean dropped a nine-minute song last week and we'd like to recognize it — here now are the candidates for Song of Summer: R&B. As always, protest wildly in the comments.
Usher, "Climax"
There are plenty of candidates on Looking 4 Myself — "Dive," the requisite anatomically specific sex jam, "Twisted," a salty sixties throwback from the Neptunes, "What Happened to U," the Noah "40" Shabib (a.k.a. Drake's friend) song — but as mentioned above, the ubiquitous "Climax" is the default winner here. It's just how Song of Summer works.
Frank Ocean, "Pyramids"
Mere hours after announcing his upcoming album last Friday, Frank dropped this twisty nine-minute-and-54-second ode to Egyptology and clothing-removal. You are actually learning something while you are listening to this. Honorable mention!
R. Kelly, "Feeling Single"
For what it's worth, Vulture does feel a little weird about declaring an R&B winner before Write Me Back is even out in the world. But history teaches us June 26 is too late for a brand-new Song of Summer! If Kellz proves history wrong, we will be the first to admit it.
Bobby Womack, "The Bravest Man in the Universe"
The soul legend's Damon Albarn–produced album (the one with the Lana Del Rey duet, yes) is also out today. Here is a space-travel video for "Whatever Happened to the Times," while we're at it.
Whitney Houston and Jordin Sparks, "Celebrate"
It's Whitney's last recording (with a writing credit to R. Kelly). Automatic.