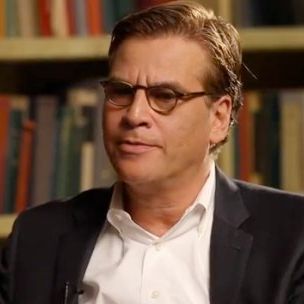 As our own Matt Seitz noted in his review of The Newsroom, "There's a whiff of Ivy League liberal sexism and racism to a lot of [Aaron Sorkin's] work, he's too in love with rhetoric, and he's too eager to show us his homework." At least one of those qualities was on display during the showrunner's recent interview with Globe and Mail reporter Sarah Nicole Prickett, who seemed to get off on the wrong foot when, in response to his suggestion that someone make a show about the Internet, she told him someone should make a show about Gawker. (His response: "Really?")
In another particularly Sorkinesque moment, he lamented not having been a writer in the forties: "I think the last time America was a great country was then, or not long after. It was before Vietnam, before Watergate." But the really ridiculous part doesn't happen until the conclusion of the chat, when Sorkin told Prickett, "Listen here, Internet girl. It wouldn't kill you to watch a film or pick up a newspaper once in a while." Upon being reminded that she is, in fact, an employee of a newspaper, Sorkin demanded a high-five:
"I'm sick of girls who don't know how to high-five," he says. He makes me try to do it "properly," six times. He also makes me laugh; I'm nervous, and it's so absurd. He loves it. He says, "Let me manhandle you."
Apparently, he then "ambled off, hoping" as he'd requested at the beginning of the interview, "that [Prickett] will write something nice." That one only works sometimes, Aaron.