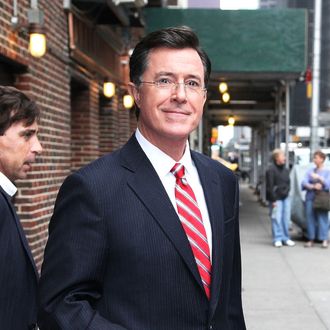 Photo: Kyle Blair / Splash News
There's a reason the attendees at BookExpo — the publishing industry's annual convention, which kicked off today in the Javits Center — form long snaking lines at seven in the morning in anticipation of the daily breakfast presentations. They're almost invariably stocked with high-wattage, bookseller-friendly celebs (your Diane Keatons, your Alan Aldas) who entertain conventiongoers in return for the chance to flog their latest booklike objects.

Today's ringer: Stephen Colbert, whose America Again: Re-Becoming the Greatness We Never Weren't is out this October. If his breakfast humor was on the crude side, he made sure to let the industry attendees know that it was their own damn fault for taking seriously the phenomenon that is Fifty Shades of Grey. In that book's honor, he interrupted his talk on "the most important book ever shouted into Siri on a drunk weekend" by listing euphemisms for his penis: "Turgid man-root … sway-backed blue-veined throbber … rock-hard loin plough … purple-helmeted groin warrior."
In the long tradition of BEA panels, this one made for strange bookfellows. Sitting alongside Colbert was the Norwegian thriller-writer Jo Nesbo, a blue-eyed slab of blond, still bleary-eyed from his transatlantic flight. He told of his own ragtag career — being in a "one-chord band" with no name that managed 180 gigs in a year while holding down a day job as a stockbroker, until he burned out and decided to imagine brutal murders instead.

Oscar Wao author Junot Diaz, who has a new book of stories out in the fall, is crude and funny enough to go (almost) toe-to-toe with Colbert, but the Dominican-born Pulitzer winner was oddly earnest this morning, rattling off a "long gratitude section" full of thank-yous before discussing his affection for the "young dumbasses" who populate these stories. There followed a string of earnest psychological talk about men who are afraid to be vulnerable: "If you're hiding yourself, there's no way you can be in love." In loving, "You form a pact with the future." Could Diaz possibly be in love? Unfortunately, there was no question-and-answer session.

But leave it to Barbara Kingsolver to give the morning's most captivating speech. It started off slightly sour, with what might be read as a dig at Colbert and other panel ringers (like Patti Smith and Neil Young, scheduled for lunch tomorrow). "We're not that cool," said Kingsolver, after rattling off her daily routine. "These are not the elements of celebrity. And celebrity is everything, right? We have celebrity chefs and celebrity housewives and celebrity celebrities. And it has occurred to me that the profession in which you're least likely to get a book contract is writer."

Kingsolver expressed somewhat predictable puzzlement over tablets and apps, the consequence of which being that the writer who relished being shelved between Stephen King and Maxine Hong Kingston now finds herself "inside a device stuffed in between Angry Birds and Whack-a-Mole." She joked about the instructions that came with a tablet she'd just bought, which she read in their entirety: "The tablet is made of glass. If you drop it, it will break."

Warming to her topic, though, Kingsolver subverted the tendency of book nerds like herself to resist change. She guessed that the invention of paper met with similar sniping: "This paper just doesn't do it for me. I have to feel the skin of the dead sheep for the words really to work." Describing her forthcoming novel, Flight Behavior, with merciful brevity, she related the book elegantly to the larger question of "Whither publishing?" And she recast those cryptic tablet instructions into a grand statement: "My new personal and professional motto." It's a reminder to her that "breakable things are still breakable, and durable things still endure." What endures, she said, is the novel, the only technology that "transports the reader into another human mind."

"The human psyche is fragile," she said. "If you drop it, it will break. So hold on tight, keep your faith in books, and keep up your good work." Colbert was certainly a get for the breakfast panel, but Kingsolver was the real star, and a handy reminder of why, when organizing a publishing event, it pays to have a writer or two give a speech once in a while.