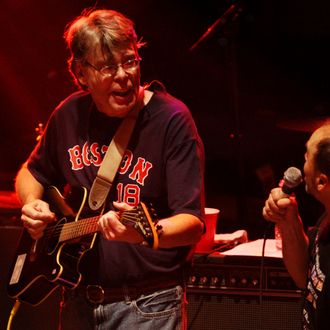 King onstage with author Scott Turow.
Photo: Evan Agostini/2007 Getty Images
If the Rock Bottom Remainders are your all-time favorite act, a) you've got uniquely bookish taste in music, and b) you are now sad. The rock and roll cover band featuring authors like Dave Barry, Stephen King, Amy Tan, and Mitch Albom is calling it quits after two decades of annual or semi-annual charity gigs. "We've gotten as good as we're ever going to get," Barry tells the AP. "You can't get any better. Well, you actually can get a lot better. But we can't get any better. We're up to almost four chords now, and the Beatles quit at that point, I'm pretty sure." The band — whose founder, literary publicist Kathi Goldmark, died of breast cancer last month — will play two final gigs in L.A. and Anaheim this month. "We're fun. We're not good but we're fun," is Barry's epitaph for the group.