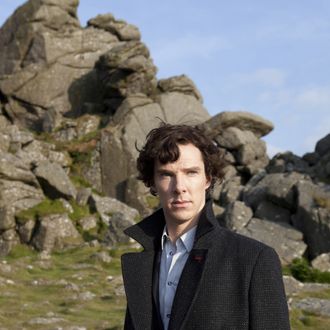 Sherlock, Series 2
Photo: Colin Hutton/Hartwood Films
CBS's upcoming Sherlock Holmes series Elementary has already raised some eyebrows among Baker Street devotees, initially because Lucy Liu — a woman — is playing Watson, but now because some fans' allegiances are already pledged to the British Holmes series Sherlock. Among the aggrieved: Sherlock creator and executive producer Steven Moffat.
"We're a little surprised," he tells IGN. "CBS approached [the Sherlock creative team] about doing an adaptation of our version, and we said no, we weren't ready to do that yet, but keep in touch. And they said, 'We're a great people to come to, we're full of integrity' … and then a few weeks later we discovered they were just going ahead and doing it anyway. So that was another example of what happens in L.A. television," Moffat says. "And I wasn't very impressed by it. What can I say? It's tough."
Moffat says he's worried that if Elementary is bad, it will "debase" Sherlock, and that if it's too similar to his show, "we'll have to take action." Surely there's enough deductive reasoning to go around, friends.