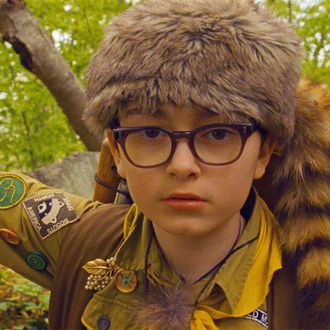 Jared Gilman in 'Moonrise Kingdom.'
Photo: Courtesy of Focus Features/2012 Focus Features
It's Sunday afternoon, or: your last chance to read all that stuff you meant to read last week before Monday brings a new deluge of things you will want to read. Below, some of our recommendations:
"I Babysat the Moonrise Kingdom Kid," by Margaret Barra (TheAtlantic.com): Jared Gilman's onetime baby-sitter writes about "The Moms" on set, the danger of filming near poison ivy, and her former charge's budding movie career.
"Kenneth Lonergan's Thwarted Masterpiece," by Joel Lovell (The New York Times Magazine): The long, pretty sad story of why practically no one saw Margaret, Kenneth Lonergan's apparently excellent followup to You Can Count on Me.

"Nick Slaughter for President," by Soraya Roberts (Slate): How Rob Stewart's character in Canadian detective series Sweating Bullets — all ponytail, Hawaiian shirts, and chest hair — became a Serbian phenomenon and brought down Slobodan Milosevic.
"The Difference Between Me and Ann Beattie," by Thomas Gebremedhin (Paris Review Daily): A black, gay first-generation American from Columbus, Ohio, on how author Ann Beattie's stories about the Galliano-sipping citizens of Greenwich and Soho  taught him to write about himself.
"Letter to Emily White at NPR All Songs Considered," by David Lowery (The Trichordist): One half of a cross-generational discussion on whether music should be free and why kids today are so ethically minded about everything except artist rights.
"Big Day Coming," by Rob Mitchum (Pitchfork): An interview with Jesse Jarnow about his book on the exceptional, drama-free career of Yo La Tengo.
"Jersey Boys," by Jeffrey Goldberg (The Atlantic): We've mentioned it before, but this chronicle of New Jersey governor Chris Christie's 129th Bruce Springsteen show is something you want to read in full.
For more in-depth weekend readings, visit our friends at Longreads.