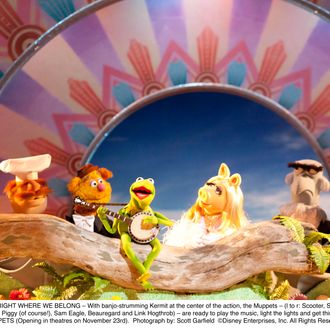 Chaos vs. Order
Photo: Scott Garfield ?Disney Enterprises, Inc./?Disney Enterprises, Inc. All Rights Reserved.
It's Sunday afternoon, or: your last chance to read all that stuff you meant to read last week before Monday brings a new deluge of things you will want to read. Below, some of our recommendations:
"Chaos Theory: A Unified Theory of Muppet Types," by Dahlia Lithwick (Slate): Explaining the world in the best possible way: with Muppets. Are your an Order Muppet or a Chaos Muppet? And what about Stephen Breyer?
"Interview: Fiona Apple," by Carrie Battan (Pitchfork): An in-depth talk with our favorite reemergent singer-songwriter about her new album (The Idler Wheel is wiser than the Driver of the Screw, and Whipping Cords will serve you more than Ropes will ever do), boyfriend Jonathan Ames, reclusiveness, shame, and other Fiona-ish topics.
"Vertigo: The Search for a Cure," by Richard Brody (The Front Row/New Yorker): Prompted by his appearance on the Approval Matrix, Brody issues a lengthy double-down on his claim that the definitely dark Hitchcock classic has a happy ending.
"Summer Jam, the Nicki Minaj–Funkmaster Flex Throwdown, and the 'Real Rap' Debate," by Rembert Browne (Grantland): A comprehensive trip report from New York's most important radio station's (Hot 97) annual concert, and an explanation of this year's main beef.
"Let's Watch a Murder," by Tracy Clark-Flory (Salon): An examination of our longstanding fascination with gore, with a focus on the recent  popularity of reaction videos to gross-out YouTube hit "1 Lunatic, 1 Ice Pick." 
"HBO's Veep Gets Religion," by Liel Liebovitz (Tablet): In HBO's newest (and, we think, funniest) show, Julia Louis-Dreyfus is forced to navigate the subtle rules of Washington, D.C.'s corridors of power, capturing "something fundamental about human behavior — something true not only of politics but also of faith."
"Scandals of Classic Hollywood: That Divine Gary Cooper," by Anne Helen Petersen (The Hairpin): Onscreen, Gary Cooper was America's heartthrob cowboy, a compass pointing to all things virtuous. But off the set, he was Hollywood's most insatiable philanderers, two-timing the likes of Marlene Dietrich and Lupe Velez (who once took a literal shot at him).

For more in-depth weekend readings, visit our friends at Longreads.