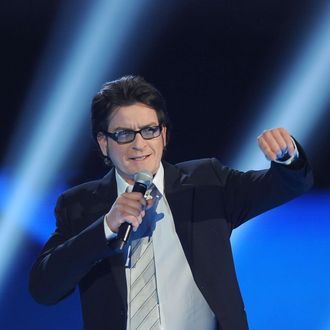 Never forget.
Photo: Mark Davis/2011 Getty Images
It's Sunday afternoon, or: your last chance to read all that stuff you meant to read last week before Monday brings a new deluge of things you will want to read. Below, some of our recommendations:
"Repentant? No Way, Man," by Dave Itzkoff (New York Times): The "winning"-est man in the world, Charlie Sheen, on why his new FX sitcom Anger Management will be his "swan song," and the (surprisingly nice) things he wants to tell Chuck Lorre when he sees him next.
"So, Like, Um, How True-to-Life Should Movie Dialogue Be?" by Ian Buckwalter (TheAtlantic.com): Improvised dialogue is getting a second look in Hollywood these days, and nowhere is this more evident (or successful) than in Lynn Shelton's Your Sister's Sister.
"Getting Sherlock Holmes Right Onscreen," by Michael Sragow (Culture Desk/The New Yorker): The BBC's hit TV series Sherlock Holmes was smart to avoid the overt theatricality of Guy Ritchie's 2011 Sherlock Holmes: A Game of Shadows, and that's because it revisited Basil Rathbone's franchise-defining Sherlock Holmes from the thirties and forties.
"Worn Copies: Beach House, VW, and What It Means to Sell a Feeling," by Eric Harvey (Pitchfork): An examination of "sound-alike" songs created for use in commercials, why certain music (like, for example, Beach House) is so good for selling things, and how advertising has changed (and not changed) since the Mad Men days.
"How 'Fifty Shades' Is Changing the Face of Publishing," by Jen Doll (The Atlantic Wire): Annual "big books," complete with paraphernalia and tie-in products for fans to buy is not a new idea —for kids books, anyway. A look at what the potential Harry Potter-ization of the decidedly not-for-children Fifty Shades means for grown-ups. 
"The Bottom," by Jim White (Radio Silence): Musician Jim White was in too deep, exploring the occult recesses of lovelorn madness, when saved by Cormac McCarthy's Suttree — only to learn from a whittling barber in Knoxville that Suttree was quite real indeed.
For more in-depth weekend readings, visit our friends at Longreads.