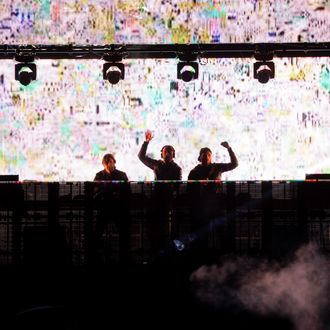 SHM spins at Coachella 2012. (Kevin Winter/Getty Images)
Photo: Kevin Winter/2012 Getty Images
The electro-megarave era is over! Well, not really, but it might seem that way to Swedish House Mafia fans, who learned yesterday from the D.J. trio's website that this tour will be their last.
Today we want to share with you, that the tour we are about to go on will be our last. We want to thank every single one of you that came with us on this journey. We came, we raved, we loved.
Signed: Axwell, Steve Angello, Sebastian Ingrosso (a/k/a Swedish House Mafia).
SHM's upcoming tour dates include a stop at the Milton Keynes Bowl in the U.K., Ushuaia in Ibiza, and the Friends Arena in Sweden. But there is still hope for American ravers — the group will announce the final leg of its final tour sometime in August.