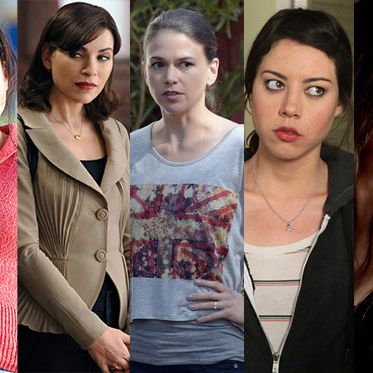 Photo: MTV, CBS, NBC and ABC Family
Summer TV can be demoralizing. There are a lot of reality shows, and a lot of repeats, and a few so-so Canadian imports that barely count as television methadone. But there is one bright spot: This time of year is primo teen-TV time, and the variety and quality of shows aimed at the high-school set has never been better. There are plenty of teen shows that are good enough to get you through the dog days and a precious handful that serve as comparable replacements for your beloved, on-hiatus regular-season series — teen or adult. If you're missing some of your favorite shows, here are the perfect teen substitutes to tide you over.
If you like The Good Wife, try … Awkward. (Thursdays starting tonight, 10:30 p.m., MTV)
A plucky protagonist who climbs her way out of social disaster (here, an accident that gets misconstrued as a suicide attempt) tries to reassert herself in a cut-throat field (here, high school) and finds herself embroiled in a very cute love triangle. And just like TGW is way better than a lawyer show needs to be, Awkward. is one of those teen shows that's funnier and more perceptive than you might guess.
If you like Parks and Recreation, try … Bunheads. (Mondays, 9 p.m., ABC Family)
Parks wears its quirkiness as a badge of honor, while Bunheads wears its as a flashy leotard, but both rely on the weird aspects of small-town life to create a rich backdrop for their characters. Sutton Foster and Amy Poehler are completely different (though both are good in their own ways!), but their characters share a spirit of moxie and an affection for breakfast foods.
If you like The Walking Dead, try … Teen Wolf. (Mondays, 10 p.m., MTV)
Zombies, werewolfs; potayto, potahto. At least stuff actually happens on Teen Wolf.
If you like Revenge, try … Pretty Little Liars. (Tuesdays, 8 p.m., ABC Family)
We've already gone through the ways PLL is secretly just Game of Thrones, but it shares even more of its perfectly coiffed DNA with Revenge. Murder! Gossip! Mystery! Secrets! Smooching! Everyone is kind of evil!
If you like Happy Endings, try … The L.A. Complex. (Tuesdays starting July 17, 9 p.m., the CW)
Happy Endings is a show for people who really like TV. It relies on its audience's level of reference so to play with certain sitcom staples or make particular allusions. Similarly, The L.A. Complex is for people who already really like prime-time soaps. It uses our knowledge of well-worn plots (let me guess: They kiss) and desire for specific resolutions (oh my God, just tell him!) to blaze through familiar setups at totally unfamiliar speeds.