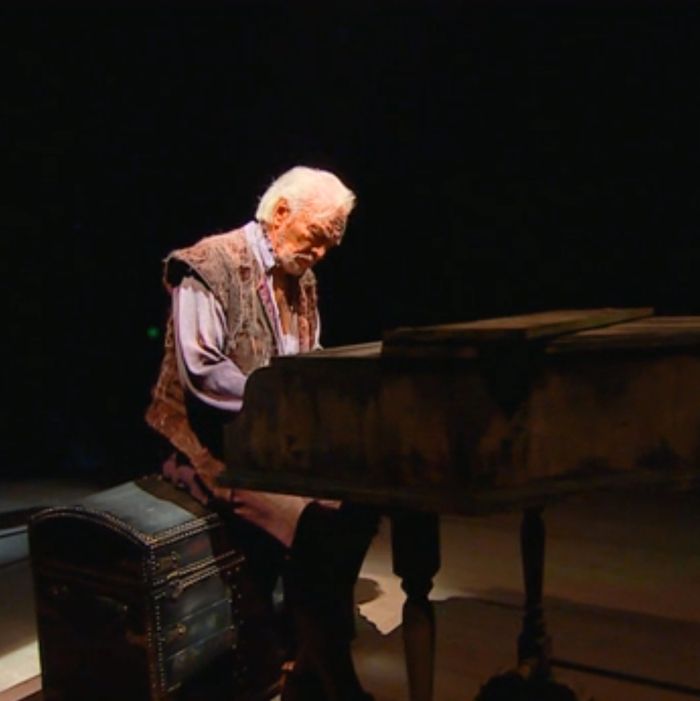 Having recently been thrilled to pieces by the live-wire A Midsummer Night's Dream at the Classic Repertory Theater and David Ives's Venus in Fur on Broadway, I was nervous about seeing the recorded version of the 2010 Stratford, Ontario, production of The Tempest — to be presented in 556 U.S. cinemas on Thursday, June 14 at 7 p.m. local time — even with Christopher Plummer as Prospero: Most recordings of theater productions are distant things that can engage the mind but rarely quicken the blood. (In his celebration of agit-prop A Good Night Out, the Scottish playwright John McGrath writes, "Watching a play on television is like listening to a symphony over the telephone.") But The Tempest on the big screen turns out to be a charmer.
It's orchestrated by the gifted Des McAnuff, the rare director who understands both theater and cinema space, who can give you a stage picture — with its complex interrelationships — and then cut to an actor's reaction or exit in a way that mimics the spectator's roving eye. Filming the production over two nights (with audiences), McAnuff and co-director Shelagh O'Brien never step on the meter, letting the play itself dictate the rhythm, the theatrical machinery the motion. The aim is what Prospero calls "rough magic," the set evoking washed-up planks (you can almost smell the damp wood), the aging wizard's cape a ragged weave of seaweed and flora.
Plummer is as good as you could hope for — and more serene, more centered than you'd expect. As the play opens, his Prospero has made his peace with death and the abjuring of his magic: Now he prepares his daughter for her brave new world and watches from afar the unfolding of his plan: the shipwreck of Milanese royalty, among them the brother who usurped his dukedom and drove him to his lonely, enchanted island. Plummer wears his 60-plus years of playing Shakespeare lightly, the voice more musical for its cracks and quavers yet no less ringing. I could have done without some of his interpolations, among them repeating one of Miranda's lines, a proud father savoring his daughter's wit. But I understand the impulse to make Prospero an even more solicitous patriarch. And I wonder if Plummer, who wasn't around for much of his daughter Amanda's youth (his marriage to her mother, Tammy Grimes, didn't take), is trying to live a relationship he never had in life. (The unusually spiky, combative Miranda of Trish Lindstrom is in the Amanda Plummer mode.) It's a sweetheart of a performance.
Prospero's most intimate relationship, of course, is with the sprite Ariel, here played by the four-foot-ten-inch Julyana Soelistyo, a magical performer in a tight iridescent bodysuit who sings many of her lines when not asking flatly for her freedom. (She's like a depressed Puck.) The Milanese contingent is played by expert Stratford vets who make their not-especially-memorable scenes compelling, and the comic relief — so tedious in bad productions and a low point in Julie Taymor's uneven 2010 film of The Tempest — is an actual relief from the royals' longish musings. Don Johnstone seizes on the melancholy side of Caliban, helping give the production a dying fall (in a good way).
Plummer will be back on big screens in the autumn with a rich, moody rendering of the play Barrymore, in which he shows even more of the colors on his palette. Bringing plays and operas (many live from places like the Met) to movie houses in high definition is a risk I hope attracts enough of an audience to cover producers' costs. Yes, most of the joy of live theater comes from breathing the same air as the performers, but if you're not actually with them then at least you're watching in the dark with other people and without a remote control at hand — you're invested. Our home theaters have become our entertainment castles, and we need more often to throw down the drawbridge and cross the moat.
(You can buy tickets for tonight's screenings here.)