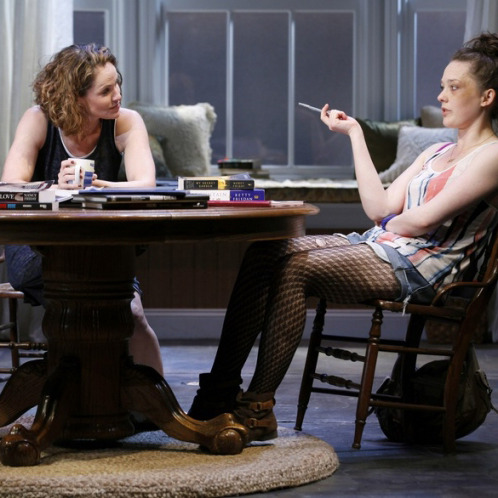 Rapture, Blister, Burn
Photo: Carol Rosegg
Rapture, Blister, Burn (at Playwrights Horizons through July 1)
The topography of postfeminism is treacherous, cratered with gaping generalizations, dangerous reductions, half-baked sociobiology, and old-fashioned shame. Thank the goddess, then, for Gina Gionfriddo (Becky Shaw, After Ashley), who has a habit of charging in with absolutely no regard for her own safety or that of her audience. Rapture, Blister, Burn, a fiercely funny, rapidly unspooling chaos of warring sexual and romantic ideals, might be her most gleefully heedless and hilariously uncalculated foray into the un-politically-correct thus far. "You want to fall back on your flawed, tired marriage? Join the fucking club!" spits Catherine (Amy Brenneman), a Gen-X Camille Paglia, "sexy scholar," and TV talking head. Her specialties: porn, slasher flicks, and progressive revisitations of Phyllis Schlafly. (Yeah, she's done Real Time.) Her theories on love, sex, marriage, and gender roles range from the porno-libertarian to the meta-reactionary, and none is allowed to stand unchallenged for long: Rapture is about three generations of smart, restless heterosexual women donning and doffing various proposals, decent and indecent, about how to live — and, more to the point, how to live with (or without) men. Nothing quite fits, but everything gets a turn in the mirror. 
Cathy first presents as a rather tiresome type: the regret-riven career woman, over 40, single, childless, sexually careless, and suspiciously nervous about her aging mother (Beth Dixon), with whom she still shares an almost preadolescent closeness. Brenneman, cool but coiled, spends most of the first act delivering lectures and keeping a clinical distance from her own theories, even when she's using her own life and career as an object lesson. Rapture is, literally and figuratively, a sort of messy seminar, and the Tragic Shoulderpad martyr figure is just her opening gambit. See, Cathy is taking a sabbatical among some good-and-crazy married friends from grad school, Don (a happy-be-here Lee Tergesen) and Gwen (gimlet-eyed Kellie Overbey). Don — a genially overeducated, undermotivated himbo with a porn-and-pot habit and a do-nothing job as a college dean — is Cathy's "one that got away," and he knows it. So does wifey Gwen — she's the one who "stole" him. Gwen and her babysitter Avery (a fiendishly funny Virginia Kull) enroll in Cathy's sex-and-media intensive, and it doesn't take long for hidden agendas to reveal themselves. "I want a flawed, tired marriage to cushion my falls!" Cathy declares. "I am ready and willing to embrace mediocrity and ambivalence!" Call the Catholic League: Their bumper-sticker contest is as good as won.

In fact, Gionfriddo never makes a case for marriage that doesn't involve mediocrity and ambivalence. Refreshingly, she's come here neither to praise state-sanctioned procreative monogamy nor to bury it. Her characters are mercilessly sharp-elbowed about all pieties, sexual, feminist, etc., and the play's best moments are its pseudoacademic knockdown drag-outs, as Cathy's seminar is increasingly dominated by Avery, the Stock Millennial (little more than a caricature, but a very good one), who impertinently dismembers the social gains of her fairy-foremothers. (Kull, as spoiler, jester, and Jiminy Cricket, handles the role like a switchblade.) Rapture is eight parts TED talk to one part taboo-tweaking college-town soap opera, but Gionfriddo has an ear for high-minded jawing. She's been criticized for being a bit too artlessly declarative and narrowly prescriptive in some of her earlier satires, but with Rapture, she's found a way to bloviate effectively, efficiently, and with great good humor. She leaves a number of stones unturned: Why, in the midst of all this truth-telling, isn't Cathy's cut-the-crusts-off, slightly pathological relationship with her mother more remarked upon? Is it worth noting that nearly everyone in the play is either a former, current, or budding alcoholic? Are Don and Gwen's oft-mentioned, always-neglected kids anything more than off-stage props? There are great clouds of dark matter here, and Rapture, like its heroine, reaches no crisp conclusion on these or many other matters. But it's a fun, fizzy ride to the peak of Mt. Nowhere, and Gionfriddo's longtime collaborator Peter Dubois directs the show into a state of reckless excitation where theoretical cogency is more or less beside the point. This is, after all, a show where the works of notorious antifeminist Phyllis Schlafly are cited extensively, chapter and verse, by a person whose sexual praxis is more Sasha Grey than Doris Day. Rapture's a free-period romp thinly disguised as course credit. Have fun. Just be safe.

Storefront Church (at rhe Atlantic Theater Company's Linda Gross Theater through June 24)
"It's amazing how a story can make you feel the time," rattles aging, penniless Ethan (Bob Dishy), recommending The Hunchback of Notre Dame to his stone gargoyle of a loan officer (Zach Grenier). "I mean, we're living in a time, right?" We're living in a time, right? seems to be the inciting question John Patrick Shanley asked himself before he set out on this mild, sweet-tempered, rather centerless third chapter in his Church-and-State trilogy of "parables." (The first entry was the megahit Doubt; perhaps appropriately, it's been downhill since then into swamps of indistinct wounded-progressive sentiment.) Ethan's trying to fend off a foreclosure; his wife, Jessie (Tonya Pinkins), has taken out a second mortgage on their Bronx apartment to finance a storefront church run by an enigmatic New Orleans preacher named Chester (Ron Cephas Jones). But Chester seems to have no congregation and even less initiative, and the bank is closing in. That is, unless Donaldo (Giancarlo Esposito), a rather ingenuous Bronx borough president, intercedes, trading his support for a major property development for leniency toward his constituents. Storefront Church is a deserved if superfluous Big Bank–spanking, plus a sermon with warm, shoulder-squeezing jokes; it contains some gentle lyric inveighing against "mindless activity" and our hypercapitalist cult of "growth," along with a somewhat unnecessary reminder that "no institution can shield us." ("Stand still. Let the spirit find you," turns out to be the final distillation of Chester's message — a message I dearly hope the reelection team in Chicago is tuning out.) "We forget the magnificence and power of our daily lives," Chester warns, but Storefront Church isn't about that: It's a very modest miracle play, so modest, in fact, that you barely notice the miracle. I came away with doubts — and an absolute certainty that the playwright, winding up his trilogy with a comforting hymn, has, at this point, little interest in addressing them.