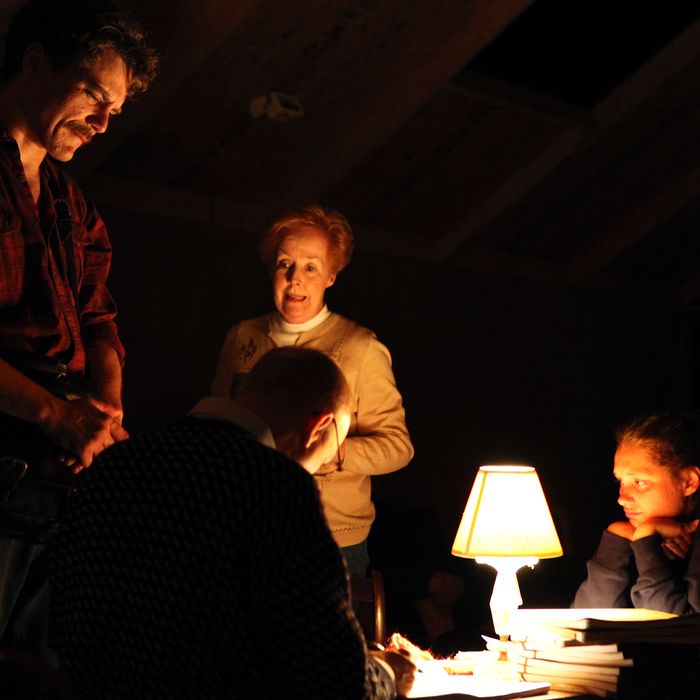 'Uncle Vanya,' at the Soho Rep.
Photo: Julieta Cervantes
Uncle Vanya (at Soho Rep through July 22)
"I was lied to," says Vanya, referring to the bulk of his miserable existence. To hear the exquisitely shopworn Reed Birney speak this line is to believe it. Birney, undisputed master of the sad sack on the New York stage, was born to play Chekhov's great cosmic gelding. And in Sam Gold's close range yet intriguingly intimacy resistant new production of Uncle Vanya at Soho Rep, we experience his effusive disappointment within spitting distance.
The audience doubles as insulation here, lining the walls of an abstract attic rec room, which stands in for the dilapidated country estate Vanya manages on behalf of his pompous, feckless brother-in-law, the narcissistic Professor Serebryakov (a priceless Peter Friedman). We practically rub elbows with some of the finest actors working in the theater today: Maria Dizzia as the Professor's bored young replacement wife Yelena; inimitable character actors Matthew Maher and The Mary Tyler Moore Show's Georgia Engel as the pockmarked tenant-sycophant "Waffles" and the dotty nursemaid Marina, respectively; and no less a glowering totem than Michael Shannon as Astrov, the tippling, downcast local physician and forest conservationist. All circulate within inches of us, clad in tragically drab casualwear, Christmas sweaters of despair. They perch on beat-up furniture that's only slightly more inert than they are. (Vanya's swivel lounger is particularly well-deployed.) Yet they're miles away, each marooned in oceans of private obsession and bottomless self-pity, as in this exchange:
ASTROV: The land has been ruined. And nothing has been given back in return.
I can tell from your expression that you don't find this interesting at all.
YELENA: It's just … I understand very little about it, I —
ASTROV: There's nothing to understand. It's boring.
This colloquial new spin on Chekhov is courtesy Annie Baker (Circle Mirror Transformation), that wry poetess of loneliness, commissioned with the stated aim of re-creating the spontaneity and naturalness of a casual reading. (Baker's text has a slangy elasticity, and less of the proprietary self-regard built into, say, David Mamet's version, featured in Vanya on 42nd Street, though the literal translation sometimes pokes up awkwardly through the deep-pile Americanisms. This isn't a Slavic Vanya or an American one — it's set in Vanyaland, a special kind of countryless Purgatory. Does the status of Sonya (Merritt Wever), a haute-bourgeois woman who works like a serf, really make much sense in this contemporary, quasi-suburban atmosphere? No. And, honestly, who cares. The point is, she's trapped, and has made of her incarceration a kind of religion. That comes through; that's enough for this strange staycation.
It's neither a cocktail party nor a cozy evening the playmakers are creating in this lamplit rumpus space: It's more like a sleepover at Wes Anderson's, where the cozy and the stilted trickily coexist. Even in spitting distance, there's distance, undeniable distance — some of it calculated, some of it, I suspect, a result of the production's all-star pedigree and unmistakable sense of itself. Either way, we're not guests in this home. It's not prepared for guests, only transients and structural members. That intimate distance is both the operative pleasure and defining frustration of this unique, often bewitching, sturbbornly diffident Vanya, a stage event I'd recommend (in comfortable clothes — the seats aren't kind) not least because it's unlikely to be repeated.
Harvey (at Studio 54 on Broadway through August 5)
In the apocalyptic heat of June, the Roundabout, in Roundabout fashion, warms yet another chestnut on an open fire. The results are shambolic and a bit moldy, but not entirely uninteresting. Did we really need another visit from Harvey, Mary Chase's twinkly 1945 comedy about a Denver crank named Elwood P. Dowd (The Big Bang Theory's Jim Parsons) and his best friend, a six-foot anthropomorphic rabbit named Harvey, whom only Elwood can see. The role — Walter Mitty meets Bartleby the Scrivener, with a happier ending — was famously assayed onstage and screen by Jimmy Stewart, and no one's attempted it on Broadway since. But, it turns out, that's not the highest bar to a Harvey revival: Fact is, the play is damned peculiar, through modern eyes. In 1944, we were willfully blind to rabbit-demons and similar hobgoblins of fertility, desire, and other ungovernables; now we see rabbit-demons everywhere. The play absolutely seethes with sexual frustration, shame, and repression, in quantities that its vintage metaphors and wink-winks can't quite channel. (Perhaps Harvey was always more the spiritual twin to The Glass Menagerie — the play it unaccountably edged out for the Pulitzer — than anyone suspected.) Today, we read this as a fairly overt parable about a gay man, unforgivably at peace with himself, in a mid-century western town, an interpretation driven home by Parsons's serenely fey aspect in the role. (Parsons is funny, his timing is automatic, but he's a blank: Where Stewart sized people up, Parsons simply stares.) Even if most of those old jokes still worked — and many of them simply don't — can we appreciate Harvey innocently after Matthew Shepard?
Director Scott Ellis chooses to release these underground energies in jerky, slapstick geysers, while preserving (barely) the antique veneer that subscriber audiences presumably demand. In this, he relies heavily on Jessica Hecht, who takes to the role of Elwood's priggish sister Veta with breathless energy and pulls down more than the play's fair share of laughs as a result — even though her interpretation rarely makes a flush fit with the rest of the show. That could be said of all the actors: Tracey Chimo, an excellent but altogether contemporary actress, plays Elwood's niece, the wannabe debutante Myrtle Mae; she tries to put quotation marks around what is, today, an irretrievably loathsome character. It doesn't go well. And how could it? The plot of Harvey consists of Elwood's sister and niece attempting to institutionalize him, so they can enjoy his estate while safely containing his embarrassing eccentricities. What was comedy onstage in '45 was tragedy off, as tens of thousands of "peculiars" were shipped off to the booby hatch for medication, restraint, electroshock, and lobotomy. Harvey's a darker tale now than it was then, and neither Parsons's Elwood nor Ellis's direction has any real reply to that darkness. Both pull down their laughs, more or less in rhythm, but there's a hollowness in this show that could only be filled with madness or absurdity, unlikely elements to find in a Broadway Roundabout revival. The intrinsic joke of Harvey, as originally constituted, was that everyone who "met" Harvey eventually "saw" him, no matter how much they'd have preferred not to. Today, we all see Harvey immediately, practically before he takes the stage, then watch in horror as a passel of Mayberry brownshirts try to exterminate him. With that setup, the bar for a happy ending is a higher hop.
Slowgirl (at the Claire Tow Theater through July 15)
Greg Pierce (The Wind-Up Bird Chronicle) is a promising young playwright who's written a promising young play, full of discomfiting honesty and moral danger that the show itself doesn't entirely know how to handle. Two unlikely fugitives are on the lam in the Costa Rican jungle: Sterling (The Pillowman's Zeljko Ivanek) is middle-aged, an ex-hippie searcher with a failed marriage and a shady business scam in his rear-view. Luckily, he rarely looks back — or forward. Sterling mostly keeps his eyes on his shoes, as he walks a stone penitence labyrinth he built on a hillside. He lives in a jungle bungalow with no walls, and that's no problem, because no one, aside from the occasional iguana, drops in. That is, until Becky (Russian Transport's Sarah Steele) arrives, chattering Millennially about blow jobs, pot (she knows Sterling's hiding it somewhere), and the mentally disabled girl she may or may not have pushed from a window at a friend's drunken house party. Becky is a curly fastball of chaos streaking into Sterling's not-quite-monastic exile; he speaks with great difficulty, like a man who's forgotten how to use his tongue. (Ivanek does this so convincingly, you want to throttle him from time to time.) Becky, meanwhile, yaks a blue streak. Neither tells the whole truth, though the whole truth is, from the get-go, so perfectly evident, we occasionally wonder what's taking Pierce so long to drop the last veil. But director Anne Kauffman takes full atmospheric advantage of the long windup, sending her two actors on elliptical little pilgrimages around Rachel Hauck's ghostly, illiteral jungle set. There's a tang of taboo sex in the air that no one — not Pierce, not Kauffman — quite knows what to do with: Sterling worries about being a "good uncle" to Becky, but really, what does that mean? The relationship is arid, and the empty spaces are full of distressing questions that hang, like tentworms in the trees. Anything can happen in the un-wired jungle (represented, cunningly, in bent girders of green steel), and the fact that "anything" doesn't happen is a question the play teases us with and never satisfactorily answers. But it's stuck with me just the same, and perhaps for the same reason. I'm excited to see the next Pierce play.