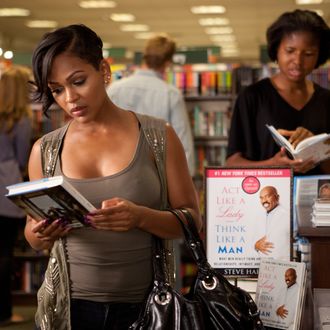 Mya (Meagan Good) grabs a copy of Steve Harvey's book in Screen Gems' comedy THINK LIKE A MAN.
Photo: Alan Markfield/Screen Gems Productions, Inc.
Think Like a Man is a pretty good movie that did pretty damn well at the box office, so you know what that means. Sequel time! Sony Screen Gems announced that they are making a follow-up, and that screenwriters Keith Merryman and David A. Newman will return to write the new script. No word yet on what the sequel will cover, or who if anyone from the cast will be back, but the book that inspired the first movie, Steve Harvey's Act Like a Lady, Think Like a Man, does indeed have its own sequel, Straight Talk, No Chaser: How to Find, Keep, and Understand a Man. Here's hoping the movie is based on the chapter "The Cookie: More on Why Men Need It, Why You Should Keep It." "Cookie" means what you think it means.