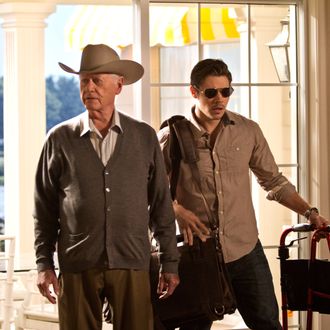 After more than a year of prelaunch hype, TNT's Dallas finally premiered last night. So, who watched J.R.? Mostly folks 55 and older, but a decent number of young whippersnappers checked out Southfork 2.0, too. According to Nielsen, the Dallas debut drew a total audience of 6.9 million viewers, easily winning the night for TNT among its cable rivals and even outdrawing the broadcast networks from 9 to 11 p.m. Dallas also attracted more viewers than any other cable series premiere so far this year, though its tally was only about half the audience of  History's monster miniseries Hatfields & McCoys. And like the latter project, Dallas skewed old.
Of the 6.9 million folks who watched Wednesday, just 1.9 million were adults under 50, the demo group most attractive to advertisers. That translates into a 1.5 rating in the key demo. While that was good enough to beat most of the repeats on broadcast networks Wednesday, as well as original fare such as ABC's Duets, it's hardly an eyepopping number, and perhaps it's even a tiny bit disappointing for TNT given the impressive, almost relentless marketing of the show by TNT. Consider that last summer's Falling Skies did 25 percent better with younger viewers, averaging a 2.0 in adults 18 to 49, while 2010's really, really old-sounding Rizzoli & Isles also did a little better among viewers under 50, even though it followed grandma-approved drama The Closer.
Even more interesting was how Dallas did with viewers under 35: It averaged just a 0.7 in that demo, losing to USA's Royal Pains and repeats of The Big Bang Theory on sister network TBS. Heck, even a repeat of Betty White's Off Their Rockers on NBC (at 8 p.m.) outrated Dallas with adults under 35, as did repeats of CBS crime dramas Criminal Minds and CSI. Still, the Dallas premiere numbers, even among younger viewers, are nothing to be ashamed of and, if they hold up, promise to give TNT another solid drama player in its impressive roster of original shows. However, given the brand value of Dallas and the months of hype, TNT executives might have secretly been hoping the show would open bigger.
The folks at TNT are certainly a lot happier these days than the suits at the young-skewing ABC Family and Oxygen, both of which have taken some very hard ratings blows in recent weeks. Monday's debut of ABC Family drama Bunheads was pretty much a flop: It averaged a mere 1.0 rating with  one of the network's target demos (women under 34), holding on to barely 65 percent of its Secret Life of the American Teenager lead-in (1.6). The results weren't better when you factor in teenagers: Among female viewers 12 to 34, the ballet-themed series notched a 1.3 rating. Particularly embarrassing is the fact that a repeat showing of the five-year-old High School Musical 2 on Disney Channel easily beat the premiere of Bunheads in the women 12 to 34 demo. It's worth noting that ABC Family had made the premiere of Bunheads available via streaming video weeks ahead of its TV debut. But such stunts aren't new, and often, they tend to increase sampling for the TV window of a show.
Meanwhile, the folks at Oxygen have to be scratching their heads over The Glee Project. You'll recall the show debuted poorly last June but then slowly built audience via word of mouth so that by the end of summer, it was a solid hit (and also a serious Emmy contender). With so much good buzz, it seemed natural TGP would return even bigger in season two. But that's not what's happened. Last week's season premiere drew just 389,000 viewers, down even from last June's disastrous premiere audience of 455,000 viewers; among adults under 50, the show snagged just 159,000 viewers, down from 211,000 in June 2011. TGP bounced back this week, drawing 474,000 viewers overall and 177,000 under 50. But compared to the overall season one ratings for the show, the first two episodes of TGP are down 44 percent overall, 57 percent with viewers under 60 and a stunning 60 percent in Oxygen's target demo of adult women under 34. That's exactly the opposite of what a network wants to see from a reality show in its second season. TGP may have been hurt by Oxygen's decision to shift the series from last season's 9 p.m. Sunday time slot to the far less family-friendly berth of 10 p.m. Tuesday. The good news for the network: If TGP holds true to its pattern from last season, the show will start picking up viewers (or reconnect with old ones).