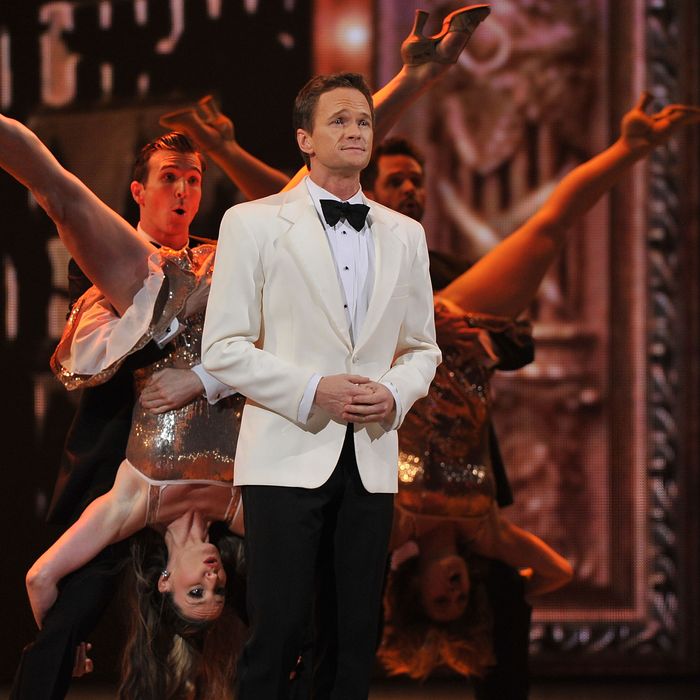 Neil Patrick Harris onstage at the 66th Annual Tony Awards.
Photo: Theo Wargo/2012 Getty Images
The 66th Tony Awards have been doled out, and unless you're friends with a couple hundred of the voters, it's likely your at-home ballot doesn't quite match the list of tonight's winners. Whereas last year's Book of Mormon sweep was all but foretold on a Times Square billboard, this year's ceremony offered more surprises than most prognosticators expected. The Best Musical race, which has been portrayed in recent weeks as a David-and-Goliath-type match between the scrappy Once and the Disney-backed juggernaut Newsies, ended with a decisive victory for the former, which picked up a total of eight statues to become this season's most awarded show.
Having received a total of eleven nominations (the most of any production), it's not shocking that Once was the night's victor. What's surprising is how the stage adaptation of an indie movie, which began life Off Broadway and is in so many ways the antithesis of a big musical like The Book of Mormon, was the runaway winner. Tony voters, many of whom are producers, tend to reward the shows they can make a profit off of in the future, which would have given the edge to Newsies, but art won out over commerce this year, and rightfully so. It's not like Newsies is going to have any trouble selling tickets here and around the country, and it was rightfully recognized for its score and choreography.
In the Best Play category, the two major contenders were Clybourne Park and Other Desert Cities, two more shows that premiered Off Broadway before moving on to bigger houses. The family drama and political overtones of Cities are generally Tony bait, but Bruce Norris's acidic satire of race relations in America took the prize, most likely because it speaks to The Way We Live Now rather than the way a dysfunctional family of one-percenters deals with their issues. The Pulitzer Prize Clybourne picked up last year certainly didn't hurt its chances, either.
The other big winner of the night was the charming, wildly theatrical Peter and the Starcatcher, which picked up five awards in mostly technical categories. Like Once, it started out Off Broadway at the New York Theatre Workshop, making this a big year for small shows.
In other categories, the upsets came fast and furious. In what is usually not a controversial category, The Gershwins' Porgy and Bess was named Best Revival of a Musical over Stephen Sondheim's Follies. Both productions were deserving, but Follies was viewed as the favorite since it failed to pick up awards for the original production as well as one prior revival. Some will snicker that this is karmic retribution for Sondheim's open criticism of the proposed changes to this Porgy (most of which didn't make it to Broadway), but timeliness likely played a role here: Porgy is still running, Follies closed a few months ago, and what's current always has the advantage.
The acting categories, too, had their share of upsets. The only lock for this year was Audra MacDonald for her turn as Bess (she won, no contest there), but a day ago it was unthinkable that the three nominees from Death of a Salesman would be walking away empty-handed. Phillip Seymour Hoffman lost to cuddly-cute James Corden for his expertly executed slapstick comedy in One Man, Two Guvnors, Andrew Garfield to Christian Borle's scene-stealing turn in Peter, and Linda Emond to Judith Light for her work in Other Desert Cities. It's foolhardy to say all three should have won, but it seems like the one glaring mistake of this year's awards that none of them took home Tonys. Perhaps they would have benefited from the nonexistent Best Ensemble Tony that has been increasingly suggested in recent years. Still, Salesman wasn't completely shafted: It rightfully took the awards for Best Revival of a Play and director Mike Nichols, the architect of this near-flawless production. 
Best Leading Actor in a Musical could have gone to Follies' Danny Burstein or Porgy's Norm Lewis, but it makes sense that Steve Kazee won for being a heartbroken troubadour with a handsome face of in Once, since he brought anguish and intensity to a show that could have been dismissed as too twee. End of the Rainbow's Tracie Bennett was once viewed as a lock for Best Leading Actress in a Play thanks to her volcanic Judy Garland impersonation, but New York audiences haven't loved the show as much as their London counterparts, and the role came off at times like a high-class drag act. It was better, then, for Nina Arianda to take the award for her starmaking turn in Venus in Fur, cementing her as the biggest young actress in the theater. It's also more than fair that character actors Michael McGrath and Judy Kaye were recognized for being the two best parts of Nice Work If You Can Get It.

Whether the ceremony itself was memorable will be left for the annals of YouTube to decide, but it did seem to have a strange energy, from the opening Book of Mormon number (again, really?) to the live performance of a Hairspray medley from a cruise ship featuring a rather skinny Tracy Turnblad. Despite being hosted by Neil Patrick Harris for a third time, the proceedings didn't feel quite as snappy as last year. His musical introduction ("What If Life Were More Like Theater?") looked under-rehearsed, and jokes like the movie-musical mashup ("Field of Dreamgirls") were half-baked. Perhaps worst of all, the closing recap number was a pale imitation of last year's rap. It seems telling that the most memorable quip Harris landed was calling the Tonys "50 shades of gay." The musical numbers were a mixed bag, the best being "Seize the Day" from Newsies, while selections from Ghost and Godspell felt like filler. The producers wanted more performances than ever, but the result felt too long, even though it nearly ended on time.
But that's all over now, and we're all left to dwell on a year in which small is the new big, the nominated plays had a lot of musical numbers, and the Best Musical winner wasn't even nominated for its score. That, and the meaning of Patti LuPone pushing a lawnmower while wearing opera gloves.