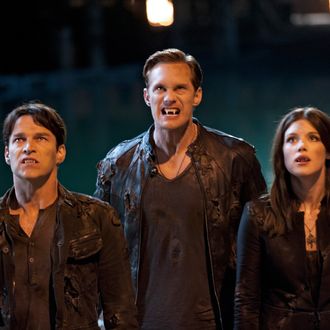 Sunday's return of True Blood seems to have taken a bite out of The Neil Patrick Harris Show the Tonys. According to early Nielsen data provided by HBO, the season five bow of the network's vampire drama drew a solid 5.2 million viewers at 9 p.m. While that's down a tick from last summer's then-record 5.4 million debut, it may have been enough to damage CBS's already historically low-rated awards show. The Tonys, airing from 8 until a little after 11 p.m., was technically the most-watched entertainment show on TV last night (6 million viewers). But its overall audience tumbled nearly 15 percent from last year, when the show averaged just under 7 million viewers. Worse, among adult theatergoers under 50, the Tonys sank to a 1.0, a 17 percent decline from 2011 and the show's tiniest rating ever in the demo. 
As for True Blood, its numbers are particularly impressive when you consider the fact that 1.1 million viewers caught an 11 p.m. repeat, bringing the show's Sunday audience to at least 6.3 million viewers. By this measure, the vamps actually commanded the biggest audience of any entertainment show on TV last night, including the Tonys, despite the fact that CBS is seen in nearly three times as many homes as HBO. 

Elsewhere Sunday, AMC's Mad Men ended its run with 2.7 million viewers, which AMC notes is the show's most-watched finale ever and caps a season that saw the show's audience grow 15 percent from 2010 (it didn't air in 2011). As usual, Mad Men's season finale underperformed versus its season premiere. But the drop-off was a bit steeper this time: A record 3.5 million viewers caught the two-hour March return of the show, which means Sunday's finale was off almost 25 percent from the premiere. In past seasons, the Mad Men finale has usually been around 15 percent less-watched than its premiere.