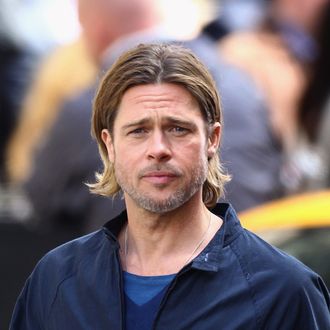 Photo: Jeff J Mitchell/2011 Getty Images
Brad Pitt's World War Z, adapted from Max Brooks's zombie apocalypse epic but also eerily reminiscent of recent news reports, was once rumored to be a trilogy in the making, but a behind-the-scenes investigation by The Hollywood Reporter casts doubt on even the first installation's prospects. For one, the production costs have already skyrocketed from $125 million to $170 million, and cast and crew shake-ups remain worryingly frequent. Not to mention, Paramount felt the need to tap Prometheus's Damon Lindelof to rework the third act. And then there's the "five weeks of complex reshoots" still needed.
More insidious, insiders claim, has been the debilitating lack of clear leadership or vision. Director Marc Forster, of Quantum of Solace, is a special-effects newbie, eliciting unflattering comparisons to Andrew Stanton's dismal live-action debut John Carter. Cinematographer Robert Richardson — who won Oscars for Hugo and The Aviator — reportedly became so fed up with the chaos that he threatened to quit more than once. As one source tells THR, "there was a lot of spinning of plates, a lot of talking," but not much actual zombie action. In fact, as late in the game as three weeks before shooting first began, Forster hadn't yet decided "what the zombies would look like and how they would move." Which is sort of a key part.
And the movie's superstar headliner, Brad Pitt? He's all kinds of frustrated, and clearly not just because a Hungarian SWAT team confiscated 85 World War Z stunt guns last fall.