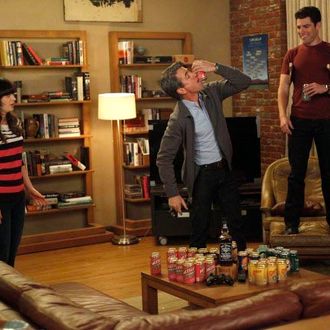 True American: The game is afoot!
Photo: Greg Gayne/FOX
The New Girl writing staff just got back to work this week, and three days into planning season two, one thing is for sure: Someone will be looking for a True American rematch, and sooner than you think. Executive producer Liz Meriwether says the gang might be playing the complicated presidential drinking game in honor of Election Day, when the truest Americans go to the polls. "We're definitely bringing [the game] back. We want to tie it into the election," she told Vulture Thursday night during a reception for the show at L.A.'s Soho House. "We air on Tuesdays, too, so I think we're going to do something fun with that." Of course, New Girl will be preempted on election night, Tuesday, November 6, but here's hoping it airs before then so we can all get a refresher course and celebrate watching returns with a shotgun tip-off and a pool of molten lava.