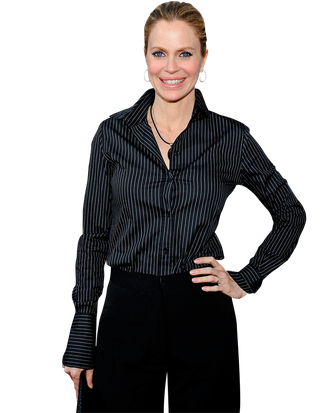 Photo: Angela Weiss/Getty Images
The yellow Wal-Mart sweats. The sad demand to be turned. The heart-wrenching break-up with Eric. It's officially the Season of Pam on True Blood, and she hasn't even worked in a good rant yet. Actress Kristin Bauer van Straten says it's all been catnip to her, except for the business of being released. She tells us all about the whining she and Alexander Skarsgard did attempting to get out of that, as well as what Pam's new role as Tara's mom means. But first, her thoughts on watching Magic Mike with her True Blood co-star Joe Manganiello.
It looks like Joe is having a great time promoting Magic Mike.
I was at the premiere. I saw it. He was hilarious. I loved him at the sewing machine with the thong and the glasses. I thought it was genius. He's a really funny guy.
Alcide's so moody on True Blood. Doing that movie must have been a treat.
In real life, he's really funny. He sat behind me at the premiere and I turned around a lot so he could see all the various expressions I was making. I tweeted him later and said, "I feel like I know you much better now."
Don't we all? The silhouette of him is burned into my mind forever.
Yes. That. Also, the scene where Alex Pettyfer is looking out of the corner of his eye? In the lower left corner of the screen? It's so vivid to me right now, and every time I see Joe it will be vivid to me. I'm actually trying to cajole him into … well, I'm going to Africa soon to shoot a documentary on elephant poaching and the illegal ivory trade during this hiatus. I'm doing a kick-starter campaign and the cast has donated amazing True Blood items. I'm trying to get Joe to find a sock for me. After I saw him in Magic Mike, I was like, "Joe. You don't have to say if you wore it or not …" I saw Stephen [Moyer] auction one and I know I can save a lot of elephants with that sock. I think if I talk about it a lot he'll be pressured into giving it to me.
It aired weeks ago, but could you re-enact your reaction to those Wal-Mart sweats?
That was so hard for me to keep a lid on because I kept saying while doing press, "Wait 'til you see what I'm wearing this year. We have outdone ourselves. Whatever you're picturing, it's even better than that." I kept talking in code and was hoping people imagined upward, not Wal-Mart. On the set, we couldn't stop laughing. I really love all the dominatrix stuff I usually wear. It's not terribly comfortable, but it's totally worth it. But with that particular scene, I was grateful for the yellow Wal-Mart sweats. We were out there two nights and it was very cold and I got to wear long underwear underneath.
It was so fitting to find out that Pam more or less demanded to become a vampire.
It was perfect because we've seen Pam be completely unapologetic about being a vampire. She's happy. She left her human life behind her happily. I had always thought, God, I wonder how that happened? Also, her relationship with Eric has been so strong, it was always as if he had saved her life. It just seemed so Pam to be so ballsy.
What was it like filming the scene in which Eric releases Pam?
I wasn't warned that would happen, so I really cried while I was reading it in the script. Alex [Skarsgard] and I talked and he said, "It's so sad!" and I said, "I hate it. I'm not going to do it. I'm not gonna film it." We went to executive producer Alex Woo, who wrote the episode, and complained. I went, "Why do I have to be released? I don't want to be released," and Alex went, "I don't want to release her." We argued with him about all the reasons Eric could protect Pam without releasing her, but they all just, you know, laughed at us and said "Action!" and we had to film it.
Well, you fought the good fight.
In the table read, I cried. In the rehearsal, I cried. When the camera was on Alex, I cried. I just thought it was so sweet and touching and emotional. I mean, the bond is going to be the same. Alex and I pretty much feel like the difference now is that Eric's just going to have to call Pam on her cell phone. She'll still give her life for him in a second. But yeah, I cried so much. My nose was running, and I said, "I know you're going to turn my tears red in post, but what are you going to do about my snot? Can you take out snot in post? Because it's going to be hideous."
Pam is Tara's vampire mom. How's motherhood going to suit her?
Well, she only turned this bitch because of the hope and promise of being back with Eric. It's like she's stuck with this ball and chain. But what's been fun to play is two people who've been trying to kill each other for a whole season, tied together immortally. Their conflict is so extreme because they're actually fairly similar. Pam's a tough love mother and Tara's a tough girl.
Are you done filming?
We're still shooting. We have to begin filming the twelfth episode, so we're still not sure how this thing is going to wrap up.
Was there a need to work Anna Paquin's pregnancy into the season?
I don't think so. I think that they're just going to work it out with wardrobe. I mean, I don't know, but I think the timing is pretty good.
You're going to Comic-Con next month. Is it something you brace for or enjoy?
I have a picture from the dais from our very first panel. It's so overwhelming. Intellectually, I know millions of people are watching our show, but you can't get the impact and the feel of that until you're at a place like Comic-Con. I remember the first time we went, Alex and I kept looking at each other like, "Wow, this show is really popular." It's lovely. Without the fans I don't have a job, so I really do look forward to it. It's also one of the only times we're all together as a cast. Table reads and Comic-Con.