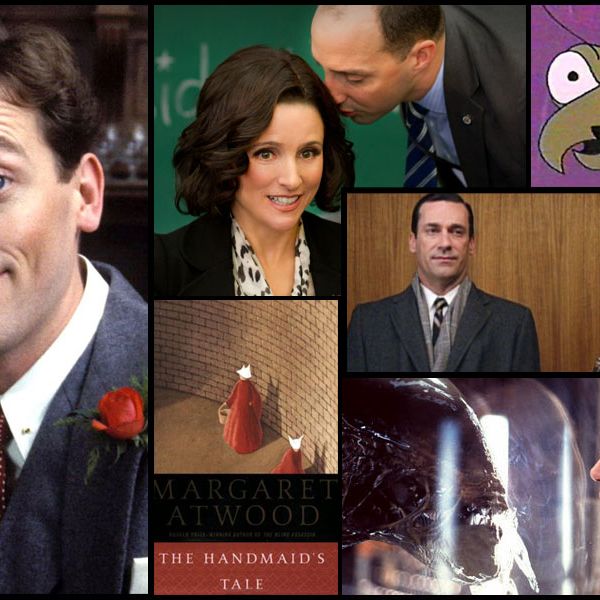 For years, our sister site Daily Intel's "Sex Diaries" has published the weekly logs of an eclectic group of people's every sexual thought and act. Here at Vulture, we get off on entertainment, so we've taken a different, less graphic tack: For our recurring feature "The Vulture Diaries," we will be asking prominent creative types (authors, directors, actors, musicians, etc.) to keep track of their cultural consumption in a given week. This week, we have author Gillian Flynn, whose third mystery book, Gone Girl, is already one of the summer's hottest novels.

Day One
6:14 a.m. I accidentally wake up pre-alarm (blech), so I roll over and grab The Handmaid's Tale by Margaret Atwood to finish it before the day starts. I will acknowledge that this seems like exactly the kind of book someone would happen to grab if she knew she were going to share her week's pop-culture choices with the world. But it really was what I was reading: I've been on an Atwood kick (I reread Alias Grace last month), and it seemed time to return to this creepy classic — I haven't read Handmaid's Tale since college. As it turns out, it's still brilliant.
1:03 p.m. I eat lunch and catch up on an episode of Veep. Creator Armando Iannucci directed and co-wrote one of my favorite movies from 2009, the frantically paced political satire In the Loop. Like In the Loop, Veep is best watched in a format that allows rewinding so you can catch all the delightfully nasty toss-away dialogue. It has one of the sharpest comedic ensembles around, including Julia Louis-Dreyfus and Tony Hale, who starred in two of my all-time favorite TV comedies: Arrested Development and the tragically short-lived Andy Barker, P.I., with Andy Richter.
6:11 p.m. I always put on music around dinnertime, to lend the proceedings a festive dance-party atmosphere. (I mostly cook canned soup, so we need all the forced cheer we can get.) I will admit up front that I am not a cool music, hipster type. I like what I like, but I probably couldn't even articulate why I like it. For the sake of transparency, I will hit shuffle and report honestly:
The Cure, "Lullabye" (Not a bad start.)
The Pajama Game soundtrack, "Her Is" (I like musicals.)
M.I.A., "Paper Planes"
Camelot soundtrack, "Camelot" (I really like musicals.)
Gutenberg! The Musical! soundtrack, "I Can't Read" (I really, really like musicals. I admit I know the creators of this Off Broadway gem — one of whom, Scott Brown, covers theater for Vulture — but I can honestly say this is the silliest, funniest, catchiest soundtrack you could ask for.)
Tame Impala, "Alter Ego"
Coconut Records, "Is This Sound Okay?" (I love Coconut Records. Check out the short film Non Plus One set to the song and starring band member Jason Schwartzman and Kirsten Dunst; it always chokes me up.)
Beth Rowley, "A Sunday Kind of Love"  
Annie, "Easy Street" (Okay, this is getting strangely heavy on the musicals, even for me.)
The Raconteurs, "Many Shades of Black"
Brad Paisley, "She's Everything"
You can at least say I'm eclectic.
8:30 p.m. Design Star, season premiere on HGTV. In addition to not being smart about music, I'm also not smart about design — our home aesthetic is best described as "piles of things that have turned into accidental furniture." But I do like to watch other people figure out how to make rooms look nice.
10:35 p.m. A little reading before bed. Tonight I dip back into baseball statistician Bill James's Popular Crime: Reflections on the Celebration of Violence. It's a chronological guide to famous American murders, and James's thoughts on why they captivated the country. I found his section on Lizzie Borden totally fascinating, probably because I didn't know much of what happened after the 40 whacks. Great, cozy bedtime reading.
Day Two
8:26 a.m. Breakfast Dance Party! Again, just to be honest:
Iron Maiden, "Hallowed Be Thy Name" (Yes!)
Run-DMC, "Rock the House" (Double yes!)
Dolly Parton, "Somebody's Everything" (Double D yes!)
The Jungle Book soundtrack, "Bear Necessities"
TLC, "No Scrubs"
Johnny Cash, "25 Minutes to Go"
1:03 p.m. A midday game of Galaga! I am unstoppable!
1:27 p.m. Stopped.
1:42 p.m. I'm an addict of really bad movies (oh, that MST3K ever went off the air). A while ago, a friend sent my husband and me a link to a trailer for Uninvited, a 1988 horror film starring George Kennedy and Rob Estes and some women in bikinis and a cat and a cat-alien puppet. In the world's most disturbing O. Henry story, my husband and I each immediately bought a copy for the other. (He found DVD, I only found VHS, which actually lends to its snuff-film vibe.) Anyways, I'm on the phone talking to a friend about it and so of course feel compelled to watch the trailer. Now you can too.
1:48 p.m. Now I must go on IMDb to check out the full Uninvited cast, where I find that an actor named Austin Stoker played "Caribbean Officer." I watched John Carpenter's Assault on Precinct 13 not long ago and got obsessed with the amazing cast. Stoker — along with Darwin Joston and Laurie Zimmer — was so cool and charismatic and bound for stardom … and then he ends up as "Caribbean Officer" in a bad movie a decade later.
8:18 p.m. Time to catch up on Mad Men, the "Dark Shadows" episode. I like to see Don with his competitive fangs out.
11:17 p.m. Settle down for the night with the latest installment of Fables, the comic book series by Bill Willingham. The man is a genius.
Day Three
8:31 p.m. I am so freakishly obsessed with Friday Night Lights that when it became clear it would be canceled sooner rather than later, I started doling them out. I am on season three, episode nine. Don't tell me what happens. I will be finished with the series around 2018 at this rate, and it will still be too soon.
10:53 p.m. More Fables.
Day Four
Noon-ish I'm flying to New York for the publication of my new book, Gone Girl. I am a very, very nervous flyer, so there are certain rituals. These rituals often involve Jack Klugman. We get aloft and I immediately pop in a DVD of Quincy, M.E.  From this episode I learn that the seventies bar scene sometimes involved turtle races. Quincy is the most delightfully righteous character to have ever stalked the small screen: He cares, man! Plus, I love the funky theme song. Cue those horns. (I don't know what kind of horns. Sax? Did I mention I know very little about music?)
1 p.m.-ish Quincy is over, so I go back in my DVD stash and pull out Red Dawn, the eighties thriller about teens taking on invading Russians. I'm not feeling it. Once C. Thomas Howell smothers his face in first-kill deer blood (delightful), I'm out.
1:50 p.m.-ish I turn to my iPod, and my usual savior, Patton Oswalt. His comedy album My Weakness Is Strong consistently makes me laugh, and I've had it for years. "Magician" has me giggling like a crazy person. The woman next to me shifts uneasily.
4 p.m.-ish I am in my hotel in Tribeca. I play a little Jay-Z "Empire State of Mind." No, come on, not really. Who would be that obvious? And then admit it? Unless they admitted it half-ironically …
4:35 p.m. Now that I've had a little dose of Klugman, my mind wanders, naturally, to the old Cartoon Network show Space Ghost Coast to Coast and the episode where Zorak demands Jack Klugman be invited on the show. ("Be a man, Spaceghost … be a KLUG-man.") I search and find this clip.
1 a.m.-ish Late-night TV flipping lands me on House Hunters International — European real-estate porn!
Day Five
3:30 p.m. Late-afternoon TV flipping lands me on Aliens on Syfy, which, like Jaws, I can't resist, ever. Stay frosty, Michael Biehn!
5 p.m. TV flipping a little later lands me on Alien Resurrection — the scene where Brad Dourif taunts the captive alien. I really love Brad Dourif — from Deadwood to The Exorcist III, which I will now submit as one of the great unsung horror films, written and directed by William Peter Blatty. Truly eerie and unsettling.
8 p.m. This is where I'd like to say I was watching the Game of Thrones finale, because it would demonstrate my passion for the HBO series (I never thought they'd be able to do justice to the George R. R. Martin books, but wow, did David Benioff and D.B. Weiss pull it off). But in truth, I was having dinner with some longtime friends.
11:56 p.m. Flip around to try to find a repeat of Game of Thrones. No luck. Winter is coming!!!!!
Day Six
11:47 p.m. Start a new novel: Losing Clementine by Ashley Ream, which several friends have recommended. It's a dark, sharply written book about a smart-ass artist who decides to kill herself in 30 days. Clementine Pritchard is hilariously sarcastic and sometimes just plain mean. And she knows it: "Having me around is like having a chimpanzee for a pet. It's only a matter of time before the maulings begin and someone has to shoot it."
Day Seven
Noon Stop by one of the all-time great bookstores: the Mysterious Bookshop in Tribeca. I buy The Gods of Gotham by Lyndsay Faye, which I've wanted to read. Love period mysteries set in New York.
11:12 p.m. I finally find Game of Thrones, but it's too far in. Can't do it. I throw in a DVD: the Stephen Fry and Hugh Laurie series Jeeves and Wooster, based on the P.G. Wodehouse books. Americans who mainly know Laurie for the TV series House will barely recognize him as the adorably befuddled Bertie Wooster.
11:59 p.m. My third novel, Gone Girl, was published today. So now is the point in the narrative when I pick up the newly minted hardback copy next to my nightstand and read the opening page so that I can cleverly and subtly weave it into this pop-culture diary. Diabolical!