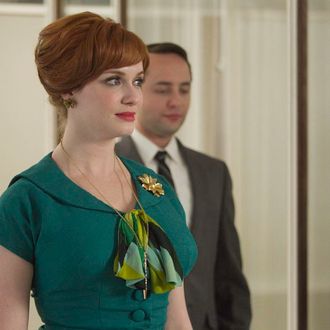 Joan on last week's 'Mad Men.'
Photo: Jordin Althaus/AMC
Welcome to Vulture Precaps, where we combine recaps, news, and (often informed) speculation into a pre-Sunday night TV-viewing primer.
What happened last week: As our own Matt Zoller Seitz put it, Joan, Megan, and Peggy got the spotlight, to devastating effect. Joan slept with Jaguar's sleaziest executive for the good of the agency — and a 5 percent stake in it. Megan continued to prove her unwillingness to bend to Don's control (or his desire for it.) And Peggy walked out of the Sterling Cooper Draper Pryce office and did not look back.
What's happened since then: Vulture's Margaret Lyons was not surprised by Joan's commitment to her ambitions (and neither was actress Christina Hendricks, who talked about her character's "epic moral moment" with GQ.) The Cut took stock of the women's appropriately bold fashion choices, with special attention paid to Joan's fur. Jaguar said it didn't mind the portrayal of its aforementioned sleazy executive. And finally, President Obama compared his grandmother to Peggy.

What to look for tonight: Of course, there's Peggy's start at a rival agency, and what seems to be Don's growing discomfort with the direction of his own firm. And, with only two episodes left to go this season, we're hoping for the return of the show's fourth woman, Betty.