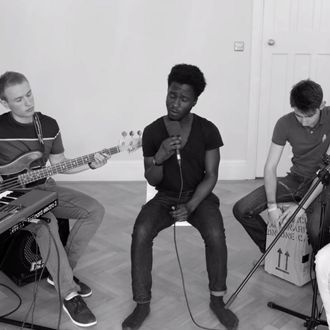 Every few weeks, our music critic unplugs his headphones and weighs in on the songs bouncing about his brain. This week's list has a cover of a James Blake tune and a Norah Jones jam. (Abebe is also keeping a rolling list of his favorite songs of the year, on Spotify. Listen to it here.)
Kwabs's "The Wilhelm Scream"
Oh man, the voice on this British soul singer, Kwabena Adjepong — low and throaty and foggy and a little strange, as if someone's rolled off all the high frequencies. Here's his band covering James Blake's terrific "Wilhelm Scream," in a style you'd call "stripped down" if it weren't actually adding color and light to the woozy rumble of the original.
Wild Nothing's "Shadow"
Disclosure: I am a total sucker for music that sounds like someone dozing off while idly daydreaming about the Smiths, and Wild Nothing remains a top-quality purveyor of exactly that sort of thing.
Neneh Cherry and The Thing's "Dream Baby Dream"
Okay: The Thing is a Scandinavian jazz trio; Neneh Cherry's the stepdaughter of a jazz legend, and the singer behind 1988's still-awesome "Buffalo Stance"; "Dream Baby Dream" is a 1980 song by Suicide, which this cover shifts from a clenched-teeth pulse to a horn-streaked reverie. (The group's take on Ornette Coleman's "What Reason Could I Give" is even more immersive.)
Norah Jones's "Miriam"
In which Jones's calm caress of a voice, the sound used by millions to go limp and relax and believe in a slightly more tender version of the world, is used in the service of being calmly, coldly pissed, and definitely not thinking very highly of this Miriam person. Adele's ex, in comparison, is the luckiest song character in the world.
Baroness's "March to the Sea"
If anyone reading this likes heavy, melodic rock, and has recently completed a homemade superhero costume, and is looking for something to play while changing into that costume for the first time — preferably something with gloriously wonky flurries of guitar around the chorus, and some harmonized solos toward the end — you are totally welcome.