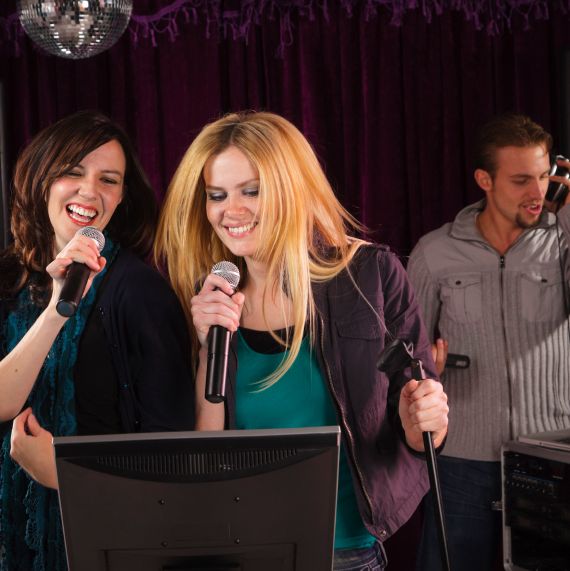 Aside from the fact that few moviegoers opted to watched Tom Cruise & Co. sing middling renditions of eighties songs this past weekend, the decade nonetheless remains an incredibly popular one at karaoke nights across America. And anyone who's ever sung at one of those karaoke nights knows that getting up the nerve is only half the challenge — you then have to pick a tune from hundreds, sometimes thousands, of options. There's nothing simple about this decision. Friends and audience members will likely interpret the choice as a glimpse into your soul.
In an attempt to figure out who exactly picks what type of song, Vulture went to a karaoke night at R Bar in Los Angeles's Koreatown. There we sang, observed, and chatted with some regulars.
Song Choice: Foreigner, "I Want to Know What Love Is"
Moods Evoked: Sentimental, Cozy
If You Sing This, You Are Likely: The Shy Type
You have been goaded or guilted into singing by your drunken, more outgoing friends. You need something capable of putting distance — either ironic or musical — between you and the audience, because you don't even want to be singing in the first place and everyone's going to be looking at you. Luckily, this ballad has two major components, both of which serve as shields between you and them: There are the synth line and the overwhelming backup vocals of the New Jersey Mass Choir. The song's message of giving one's self over to another entity is an added bonus for you. As often happens with Shy Types, you are dragged onstage only to blow everyone away.
The Experts Say: "People ask me what they should sing if they're unsure of themselves and I'm like, 'Pick Foreigner. It'll make you look badass. It's like going out on a date. You're nervous, you're putting yourself out there. But if you own it, it doesn't matter what you sound like." —Katie Matthews, independent karaoke D.J.
Song Choice: AC/DC, "You Shook Me All Night Long"
Mood Evoked: Faux sexual
If You Sing This, You Are Likely: The Body
You may not necessarily have a body, but you (and you are almost always a guy with this song) certainly have something just as good. Confidence! You gyrate and thrust your pelvis like it's trying to detach itself from your body. You usually scream-sing, regardless of the song, but especially to this one. Leg kicks are often involved, sometimes followed by a barely held back grimace of pain.
The Experts Say: "I actually find this song kinda romantic, so more than once I've 'serenaded' a gal pal or a rando in the audience with it. In general, it's an aphrodisiac: More than once, unsolicited female backup dancers have joined me onstage halfway through" —John Druska, karaoke enthusiast
Song Choice: Joan Jett, "I Love Rock and Roll"
Mood Evoked: Fierce
If You Sing This, You Are Likely: The Secret Badass
You are most likely female. On any given day, you fall somewhere between timid and quiet on the social spectrum. Yet, when you find yourself in a karaoke bar, you are compelled to put this song on. "I Love Rock and Roll" is in your range, because it's in everyone's range, which takes the focus off of musical ability and puts it on enthusiasm and ferocity. If you do it right, you are kickass. If you do it wrong, there is no wrong. You may or may not actually love rock and roll, but this song makes you feel hyped. Every now and then, you need to be reminded of the powerful being that lives inside you, and such a lesson doesn't come easy. Sometimes it costs $2 a song.
The Experts Say: "I grew up in a very conservative Christian household and I was thirsty for women to emulate who were ballsy and daring and out there. When I heard the gritty sound of Joan and saw how sexual her performance was in that video, I clung to that. It was also my first karaoke song." —Alex Alexander, regular at Koreatown's Café Brass Monkey
Song Choice: Prince, "Purple Rain"
Mood Evoked: Nirvana (As in a sense of peace, not the … never mind.)
If You Sing This, You Are Likely: The Master
You are the karaoke guru. Performance, vocal ability, an almost preternatural ability to know what song is the right song for any given moment — you have mastered all these things. As such, you and only you are capable of pulling off the long, slow, almost masturbatory rendition that "Purple Rain" requires. Everyone else, you're just causing us sorrow and pain.
The Experts Say: "A lot of people don't like to sing "Purple Rain" because it's tough. The whole bar's not gonna chime in on that, which is great when you really want to give a song your all." —James Ross, who won $1000 at a karaoke competition in part because of his performance of "Purple Rain"
Song Choice: Bruce Springsteen, "Dancing in the Dark"
Mood Evoked: Jingoist Rapture
If You Sing This, You Are Likely: The Hype (Wo)Man
You are the people's servant. You scroll through the songbook to pick out songs that most attendees love, but aren't sick of yet. You're not going to pick "Thunder Road." You're not going to pick "Born to Run." You're not even going to pick "Glory Days." No. Always hoping to steer the room toward maximum potential, you always put the interests of the crowd before your own, even if it means adopting Courteney Cox's dance moves to prove it. Also, you love America.
The Experts Say: "If you don't like Springsteen, you're a terrorist." —Nadia Osman, Springsteen-phile
Song Choice: Heart, "Alone"
Mood Evoked: Moussed-up Empathy
If You Sing This, You Are Likely: The Thespian
You go about your daily life just fine, but inside of you is a percolating well of theatrics waiting to be released. Maybe you can carry a tune, maybe you can't. What is definitely true, though, is that you have many voices inside of you clamoring to be let out. The singing voice is the most selfish of them all. It is a rock diva's voice.
The Experts Say: "I love hitting the high notes and pretending I am an eighties rock star for just a moment. I find it more enjoyable to sing in character and to really get into it, put on a show." —Jenny Brooks-Stratton, karaoke power singer
Song Choice: Young MC, "Bust a Move"
Mood Evoked: Hyped … at first
Most Likely To Be Sung By: The Showoff
For you, it's not about pleasing the crowd or having an emotional attachment to the song as much as it is about a sheer demonstration of "skill." You cannot foresee a scenario where you trip up on one of this tune's eight verses. And even if you do, you ooze such good humor that the audience will forgive you for it. You conveniently forget that the repetitive melody that makes "Bust a Move" such a great party song can also be a lullaby for karaoke crowds. But still, whatever.
The Experts Say: "We actually have a shorter version of this song because it's so long; if you don't nail it, it can be painful." —Lou Gropp, bartender at Cafe Brass Monkey
Song Choice: The Smiths, "There Is a Light That Never Goes Out" (Alternatively, any Smiths song)
Mood Evoked: Politely Cool
Most Likely To Be Sung By: The Loner
You are the person dressed all in black, who doesn't mind singing to themselves in front of strangers. You enjoy being alone in a crowd. You gravitate toward this song in order to achieve the kind of emotional catharsis that can only be achieved in the open. You are the type of person who is fine with singing something that goes, "To die by your side is such a heavenly way to die." While singing this, you possibly close your eyes. When this song came on at the bar we were at, most us of politely went about our conversations, glancing up every once in a while to acknowledge the singer.
The Experts Say: "I don't really feel like talking right now." —Some guy who wouldn't give us his name  
Song Choice: Journey, "Don't Stop Believin'"
Moods Evoked: Anywhere from irritating to riotous, depending on level of sobriety.
Most Likely To Be Sung By: Everyone
The Experts Say: "People are sick of this song." —Everyone