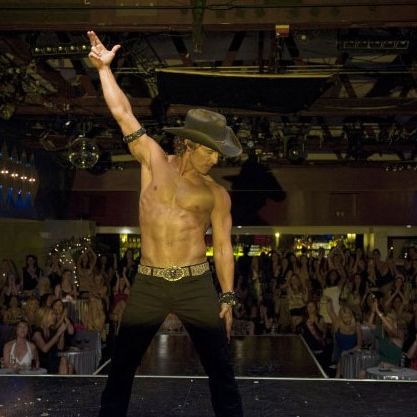 Matthew McConaughey in Magic Mike
Photo: Warner Bros.
2012 is a very big year for Magic Mike stars Channing Tatum and Matthew McConaughey, who will both be among this year's most prolific actors, each appearing in at least five movies being released. For Tatum, who's had blockbuster success with The Vow and 21 Jump Street, this is the year that finally confirmed his leading-man bona fides, but McConaughey has taken a totally different path as of late. Sixteen years after his breakout lead role in A Time to Kill, he's ditching studio star parts and filling his résumé with supporting roles in risky indies — and because of that, he's turned from a near-joke twangy rom-com-er most scrutinized for his shirtless beach calisthenics into one of Hollywood's most interesting actors.
His role as stripper team captain in Magic Mike is a knowing parody of how McConaughey used to be perceived: The shirtless stud muffin, undeniably charismatic but ultracheesy. By amping that up to eleven in his new film, McConaughey delivers an indelible supporting role, but he also winningly proves that he's in on the joke, like a Saturday Night Live host who scores points by self-satirizing.

The rest of his 2012 portfolio is as diverse as it gets. McConaughey swanned in from time to time as a square lawyer in Richard Linklater's delightful dramedy Bernie, and he'll soon be seen as a vicious hit man in the NC-17 crime thriller Killer Joe. On tap after that are two films that took McConaughey to Cannes this year (who would have thought that this former Kate Hudson co-star would become such a star on the Croisette?): the wild Lee Daniels experiment The Paperboy, where he plays a closeted journalist into some rough stuff, and Mud, the well-received follow-up to Take Shelter from director Jeff Nichols. Though McConaughey is first-billed in many of them, he isn't actually the lead character in any, and that seems to have freed him up. He's never been wilder, looser, or more appealing.

You see it happen from time to time — an A-lister like Tom Cruise or Colin Farrell reinvents himself with a showy supporting part — but it's usually out of necessity, coming after a personal scandal. After Cruise jumped the couch and audiences deserted him, he disguised himself as Les Grossman in Tropic Thunder, winning some of his best notices in years. He returned to that well of outrageous supporting performances by playing Stacee Jaxx in Rock of Ages, a role he booked last summer, when he was still coming off of underwhelming returns for Knight and Day and Valkyrie (and before Mission Impossible: Ghost Protocol suddenly helped replenish his drawing power). And while Rock of Ages was critically savaged, he was often singled out as the film's lone bright spot.

As for Farrell, you might say that he was crowned a leading man before he — or the audience — was ready for it, and his once-hot career paid the price after Miami Vice cratered and drug troubles sent him to rehab. To get back in Hollywood's good graces, Farrell took several supporting parts in movies like Crazy Heart, The Way Back, Horrible Bosses, and Fright Night, and they actually provided him with some of the best roles of his career.
McConaughey wasn't in quite as dire straits as these two when he shifted his career priorities. He wasn't being frozen out of lead roles; Hollywood was still eager to cast him, even as his romantic comedies were facing diminishing returns (2003's How to Lose a Guy in Ten Days: $105.8 million; 2006's Failure to Launch: $88.7 million; 2008's Fool's Gold: $70.2 million; 2009's Ghosts of Girlfriends Past: $55.3 million). But whether he was anticipating the day when his phone would stop ringing for big studio parts, or was just invigorated by The Lincoln Lawyer, for which he delivered one of his most invested performances in years and was rewarded for it with great reviews, he seems to have turned his back on the fluff he'd taken before. And unlike Farrell, who's now attempting to cash in his supporting chips to topline a studio movie like Total Recall, McConaughey has signaled a continued interest in zig-zagging. He's going to star in a one-season detective show for HBO, and he's trying to mount The Dallas Buyer's Club with director Jean-Marc Vallee, a well-regarded, based-on-true-facts screenplay about an AIDS-stricken electrician who ran an underground drug ring supplying HIV meds in the eighties.

A lot of male matinee idols could learn from McConaughey's example, whether they're big stars on the downslide like Nicolas Cage and Jim Carrey, or simply romantic studs with waning appeal like Gerard Butler. It's a lot more fun to steal a good movie in a supporting role than to shoulder a bad one on your own. Fortunately, the ascendant Tatum already gets it, and he's balancing big parts in new films by Roland Emmerich and the Wachowskis with smaller, potentially showier gigs in indies helmed by Bennett Miller and Steven Soderbergh. To paraphrase a classic McConaugheyism repurposed several times in Magic Mike: With McConaughey as a mentor, it looks like the kid is all right (all right, all right).