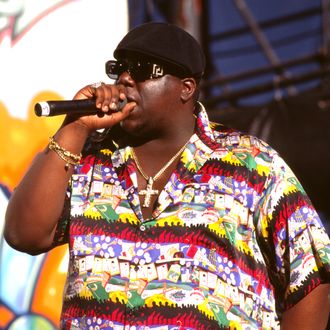 Notorious B.I.G. 1995
Photo: Chris Walter/Getty Images
It's a big week for R. Kelly, who has a new album — Write Me Back — and a much-anticipated autobiography to share with the world. Rolling Stone has a long excerpt from Soula Coaster: The Diary of Me, and in addition to Kelz's thoughts on the music business ("It was like being in McDonald's and realizing that even though cheeseburgers and fries sold big, you could also make money serving up McRibs, which are always available for a limited time only"), he writes about the times he first met Tupac and Biggie. The latter introduction happened in a hotel lobby (of course) around 4 a.m., when Kelly was "working on what would become 'I Believe I Can Fly.'"
He came over to the piano, and I started to play it for him: "I believe I can fly, I believe I can touch the sky … " but so far that's all I had.

"I'm gonna tell you right now, B, that's a smash. That's a big hit right there. That's a Grammy winner, Rob."

When I was playing it for him, I was thinking — he's a hardcore rapper; this is gonna be too soft for him — but when I got through and looked up, his face was wet with tears.
Okay, all together now: I can flyyy — ee ayy ee ayy — ee ayy ee ayy —  ee ayy ee ayy …  (Plenty more of the excerpt here.)