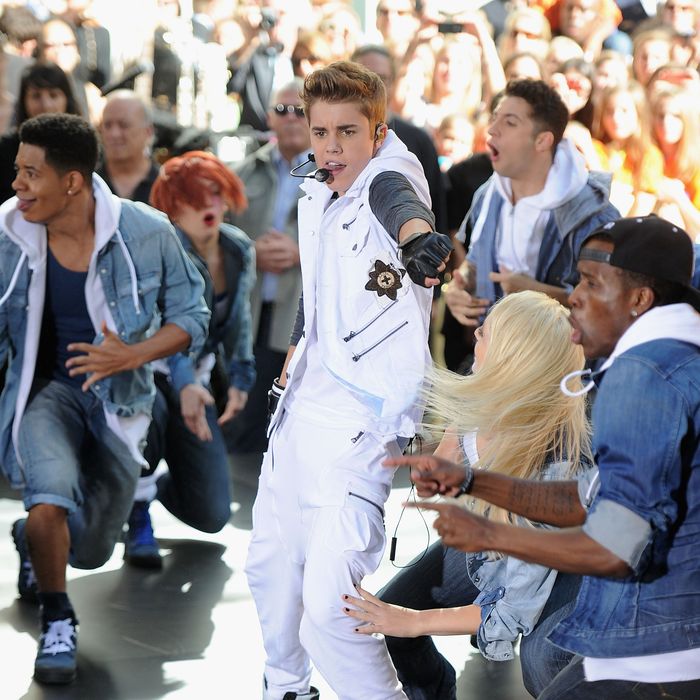 Justin Bieber peforms at TODAY Plaza on June 15, 2012 in New York City.
Photo: Jamie McCarthy/Getty Images
Justin Bieber's Believe is expected to sell 500,000 copies in its first week. His tour sold out in minutes. His fans still camp out for days to see him; they will even follow Matt Lauer on Twitter to defend his honor. No matter that Believe is Bieber's warning shot, essentially, a taste of the adult themes ("putting it on you," paternity suits) and sounds (dubstep?) to come when the teen-idol shackles eventually come off; Bieber has included enough inspirational messaging and sunny falsetto to keep his young audiences happy. What Believe is missing, however, is a "Baby"-like crossover hit that will worm its way into the pop rotations of Bieber's desired audience, the 18-and-older set. This is not because none of the songs are as enjoyable as "Baby" (in fact, "Die In Your Arms," Bieber's Jackson 5 homage, is dangerously catchy). Rather, it is because the grown-up audience has already anointed this summer's "Baby": It is a song titled "Call Me Maybe," it is sung by Carly Rae Jepsen, and it was delivered to the American people by Justin Bieber himself.
The origin tale goes like this: Bieber was home for Christmas, heard Carly Rae Jepsen on Canadian radio, and like any functioning human, was immediately hooked. Soon his manager, Scooter Braun, had signed Carly, and Justin's crew (Selena! Ashley Tisdale! Random guy with mustache!) made an adorable viral video, the better to spread his "Call Me Maybe" gospel. A month later, Bieber released "Boyfriend", the debut single off Believe. Bieber's song debuted at No. 2 on the Billboard Hot 100 and then slipped down the top ten, where it's been hanging ever since; "Call Me Maybe," meanwhile, doggedly climbed its way to the top 5 before finally hitting No. 1 last week. The pop trifle is on morning shows and weirdo teen rapper EPs; it is a virtual lock for 2012's Song of Summer.
And crucially, "Call Me Maybe" isn't just a hit with the kids. Colin Powell is in on this phenomenon. Corgis, too. And who can blame them: It's fluff, but it is irresistible fluff, with the exploding chorus and the up-talk and the pitch-perfect goofball video, encouraging a thousand silly parodies. Justin Bieber is clearly no longer interested in making bubblegum hits like "Call Me Maybe"; he'd rather be rapping with Big Sean or doing anything that signifies (in his mind) musical adulthood. This may be a smart long-term strategy, laying the groundwork for more mature fans. But as Bieber well knows, based on his own breakout "Baby," it's the magical, uncomplicated bits of ear candy that hook in older audiences and take a song from teen favorite to bona fide cultural phenomenon. For someone who is so clearly itching to escape his teenybopper designation, that crossover audience is crucial.  Bieber willingly, if unintentionally, handed that demographic off to someone else at the wrong time.
Scooter Braun and Co. have probably spent a sleepless night or two going over the timing of that decision; it's a curious misstep for the otherwise frighteningly well-managed Bieber. Which is not to say that Carly Rae Jepsen will ever outstrip Bieber in popularity, or even manage another top 10 hit. "Call Me Maybe" is a perfect storm: a dynamite song, a well-timed pre-summer release, and yes, the J.B. endorsement. He has capital to spare. But Believe was supposed to be Justin's breakthrough album, or at least the album that let grown-ups know he was capable of a breakthrough, at some point down the road. How will they know if they are too busy bopping to "Call Me Maybe"?