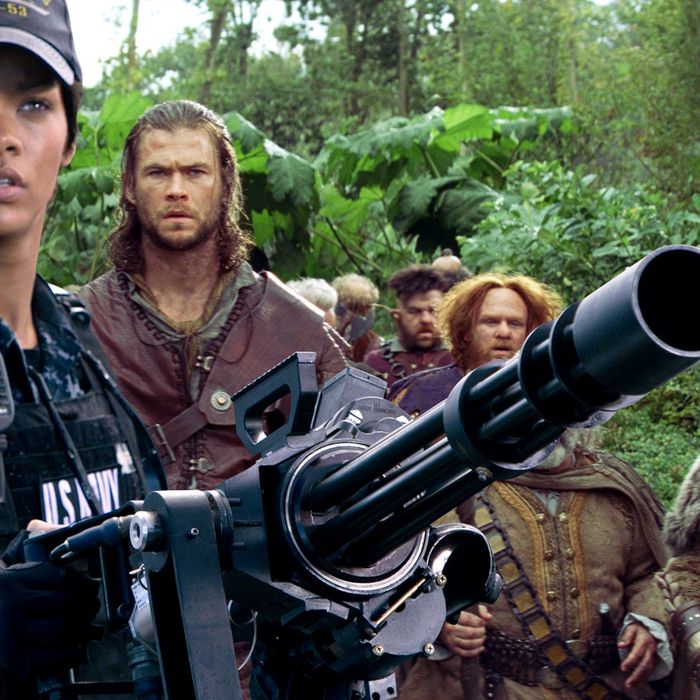 Tracking poorly with audiences, the pricey Snow White and the Huntsman looks likely to be yet another in a list of painful bombs for the beleaguered Universal Pictures, coming just two weeks after Battleship got torpedoed at the box office. Over nearly three dismal years, the entrenched team of chairman Adam Fogelson and co-chairman Donna Langley has made and released such high-priced failures as The Wolfman, Green Zone, Robin Hood, Scott Pilgrim Vs. The World, and now Battleship, leaving one to wonder: Will Snow White be the poisoned apple that finally forces a regime change at the reeling studio?
NRG data leaked to Vulture shows that the action/adventure film is tracking particularly poorly with one group that action/adventure films cannot afford to disappoint: men. Only slightly more than one in three males (36 percent) over the age of 25 are expressing "definite interest" in seeing it. More, an internal Universal Pictures memorandum shared with Vulture shows that the studio expects a best-case opening-weekend haul to be only between $35 million and $40 million — a disastrously low number for a film that the studio admits to costing $175 million but which insiders say wound up totaling $190 million. (Add to that another $80 million to market it, and the math quickly becomes a problem: After all, it's not what you gross, but what you keep. As half of all box office receipts must be split with theaters, you quickly realize this is a film so expensive it would need to gross roughly half a billion worldwide just to break even.) Even if it opens at No. 1, which is likely, it's not necessarily a victory.
Snow's very existence still draws slack-jawed amazement from many in Hollywood: that a first-time director (Rupert Sanders, who had worked for a decade doing commercials) was given a $150 million budget to make his first studio picture; that such a vastly expensive film could be made with a starlet who has never had a hit outside of her tween-girl-heavy franchise Twilight; and that anyone could expect 18-year-old boys to willingly buy a ticket to see a movie about Snow White — however "edgy" and "cool" she might have been tarted up to be.
And so, in the very likely occurrence that Snow fails, the financial damage might well be the final straw for an executive team that has overseen one of the worst losing streaks ever. While they were elevated to co-chairmen of the studio in October of 2009, both executives have been in senior leadership for almost a decade now: Langley became president of production in 2005, while Fogelson was named president of marketing in 2002 and president of marketing and distribution in October 2007. In the summer of 2009, the studio kicked off a three-year long cavalcade of multiple $100 million write-downs, starting with Land of the Lost. 2010 would prove even more accident-prone, with The Wolfman, Green Zone, and Robin Hood each said to have lost at least $100 million, not to mention less-expensive bombs like Scott Pilgrim Vs. The World, Repo Men, and Skyline.
When Comcast officially got regulatory approval to formally acquire Universal in late January 2011, it seemed as though things might be turning around: Fast Five opened huge, revving up more than $600 million worldwide, and Bridesmaids would go on to make nearly $300 million worldwide. But soon enough, the promise of spring would give way to the scorch of summer: The once-unassailable Tom Hanks lost money with Larry Crowne and the seemingly bulletproof pairing of James Bond with Indiana Jones in Cowboys and Aliens similarly started a tide of red ink that wouldn't just not recede, but kept growing: The Thing. The Change Up. Dream House. Tower Heist. Wanderlust. Big Miracle. The Five Year Engagement.
There have been a few bright spots with moderately budgeted films like The Lorax, Contraband, and the brilliantly-marketed Safe House. But this year's megabombs will likely erase their gains. Today Comcast CEO Brian Roberts reportedly told investors that Universal Studios' losses were responsible for dragging NBCUniversal's earnings to "flat, slightly down" this quarter: Analysts expect Universal will be forced to take a $150 million write-down on Battleship, and the way it's currently tracking, there could be between a $75 to $100 million write-down on Snow White and the Huntsman. Add up all the disasters of the last three years, and the total loses come to a staggering billion dollars.
Someone is going to have to pay for this mess, likely with their job, and more than likely following this weekend. It'd be hard to imagine that it won't be Langley and Fogelson. After all, shortly after Comcast took ownership of Universal last year, the pair flew to Philadelphia with a presentation for Comcast COO Steve Burke, pleading with Comcast brass not to pull the plug on Battleship, the budget of which had already been cresting $210 million. As old salts used to say, "Hold fast!" Burke let the project continue, only to see its budget reach $240 million and then sink. With Snow White looking headed for a similarly ignominious end, it's hard to believe that Burke will continue to hold fast.