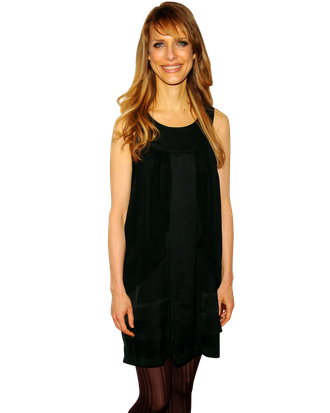 Lynn Shelton.
Photo: Andrew H. Walker/Getty Images
Lynn Shelton had a filmmaker's nightmare at the start of Your Sister's Sister: One of her two leads, Rachel Weisz, dropped out just as she was about to start shooting. Luckily, her male lead and frequent collaborator, Mark Duplass, had a suggestion of whom she could grab instead: Rosemarie DeWitt. With a couple of tweaks to the characters, Shelton and her third lead, Emily Blunt, got their new actress up to speed with some late-night drinking, movie-watching (Conan the Barbarian and The Lost Boys), and general sisterly bonding. (Blunt and DeWitt play sisters who wind up in an unlikely love triangle with Duplass.) Shelton chatted with Vulture about flexible sexuality, not-so-flexible eating, and finding a new muse in DeWitt.
How did you feel when Rachel Weisz dropped out? How did you recover?
I was devastated. I thought, I can't go on, because I had created this character for and with this actor over the course of a year. But then I realized I had a backstory bible, and I can just write it all down and share it with somebody else. I had more dialogue written out than usual, at Rachel's request, so that was my starting-off point. I'm a big fan of Rose's, and I thought, If we can get her, this will be good, and I've never been more right than anything else in my life. I felt it in my gut. We lost two days, so we had to do this in twelve days and out of order, but it all worked out beyond my wildest dreams. And she owns it. For one scene, all I did was say, "Come up with something to embarrass her with," and she was like, "I got it." And then Rose made Emily blush for real on-camera with that line about her pouf of pubic hair.
Originally it was supposed to be a mother and a daughter versus two sisters?
That was Mark's kernel of an idea. A guy and a girl are best friends, he's in a bad place, she invites him to the family getaway, and you think he's going to be alone, but then her hot young mother shows up. That was the idea, some sort of twisted mother-daughter love triangle, and it seemed like an especially male fantasy. Not that two sisters isn't also a male fantasy.
Or a lesbian who will do it with a guy just this once.
That gives it its extra oomph. I don't want to give away too much, but I like how a little bit, and then a little bit is revealed while they're drinking. She's a lesbian? Oh, well, okay, that changes everything. Now they can be buddy-buddy, and sex is off the table. Oh, wait, she's willing — what? It's one more reveal after the next.
It'd be so much simpler if she didn't identify as lesbian, but just realized she's bisexual. Or as Kalinda on The Good Wife says, she's flexible.
You know, the research has shown that sexuality is more fluid in women. It's easier for women to cross over. Most gay or straight men are not as willing to make the jump over the fence and back again. I'm in a straight monogamous marriage, and I've been married for twenty years, but I'm more like somebody like Kalinda, because I would fall for anybody — gay men, lesbians, straight women, straight men. I had crushes all over the place. If society wasn't telling us we couldn't, I think people would just fall in love with people.
You explored that idea with Humpday, too …
And I found that it doesn't work that way. We are one way or the other. And it was an edifying experience. My friend's dad, who is on the conservative side but was on the fence about gay rights, watched it, and it really hit home for him, that these two guys desperately wanted to be something they weren't and couldn't do it. So my friend's dad realized that we don't choose what we are, and I love that. I never expected that added benefit, which was great.
Almost every guy I know has a man crush on Paul Rudd, though.
[Laughs.] And they can say, "I love you, man," and just back-slap each other.
You're supposed to work with Paul in your next film, Laggies? And you're finished with Touchy Feely? How did that turn out?
Rebecca Hall is also in Laggies, but she's got the new Iron Man, so as soon as we can make it work, we'll do that. Touchy Feely, I'm about to go back in the edit room on that. It's my first ensemble with multiple story lines. Usually it's just three people in one location! So this one has Rosemarie DeWitt and Josh Pais as siblings, and Ellen Page as Josh's daughter, for the core functional family, and they're in a tug of war over Ellen. Ron Livingston is Rose's husband. But he's a bit of a mystery man, and he makes an appearance at the end to reveal something about himself. There are a lot of twists and turns. But essentially, Rose is playing a massage therapist who can't do her job because she has a repulsion about the human body — poor dear! So she's in a downward spiral. And her brother, by contrast, is an uptight dentist, and he goes on his own journey of self-discovery. I started talking to Rose about this role about a year ago, and I wrote these two roles for these two actors. That's where I start, and I build around the actors. That's how I managed to lure her back to Seattle!
There's a scene in Sister when Rose's character Hannah attempts to make vegan gluten-free pancakes, and they do not turn out well for anyone. How did you come up with that?
It's totally my own diet. I am gluten-free, soy-free, corn-free, dairy-free, I don't eat meat, and I can't digest beans. I basically eat fish and vegetables. No fruit — allergies. It's funny and it's embarrassing, and I'm totally making fun of my own diet. Mark was even telling me if I put my actual diet in the movie, no one would believe it.
Okay, because if Hannah didn't have Celiac or a wheat allergy, there is no point in her eliminating wheat from these pancakes, because it's not a vegan issue. It's probably not going to taste as good. Though Thomas Keller's Cup 4 Cup substitute flour makes the most awesome gluten-free pancakes.
That is so cool! I love that there are more and more of these things now, and that the substitutes are tasting better and better. It's so heartening. But people just don't get it. They really don't understand. You get a lot of different reactions, like the eye rolling from people who choose to eat or can eat everything and don't have to eliminate anything from their diet. There is a lot of impatience out there. So I thought this was a nice way to introduce some button-pushing possibilities between siblings. Iris is trying to be nice and tolerant, even if the pancakes are disastrous and replacing eggs with flaxseed makes them like glue and you can't open your mouth. She doesn't want to malign her sister. And that, by the way, is based on real-life experience — it took me a long time to learn to make those pancakes really well. If you don't do it right, things can go terribly awry.