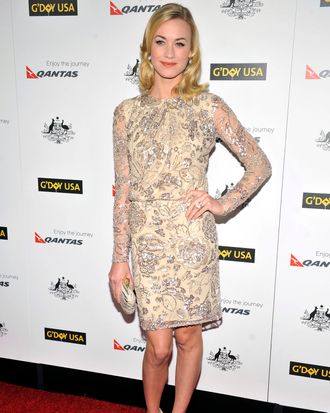 Yvonne Strahovski arrives for the 9th Annual G'Day USA Los Angeles Black Tie gala on January 14, 2012 in Hollywood, California.
Photo: Toby Canham/Getty Images
Chuck's Yvonne Strahovski will star in a multi-episode arc on Dexter this season, Showtime announced today. She'll play a "strong, independent woman" who helps Dexter and his colleagues with a few old cases — but Dexter thinks there's something she's not telling them! Is it that she's a secret murderer? If so, then we're predicting that she and Dexter will fall in murderer-love, but things won't work out, so Dexter will of course have to murder her, because that's how all guest appearances on this show end.