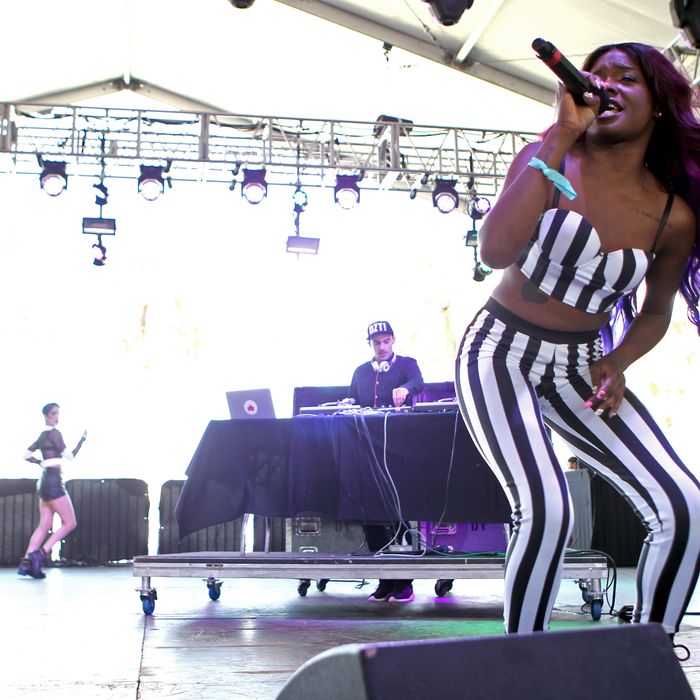 Rapper/singer Azealia Banks performs onstage during day 2 of the 2012 Coachella Valley Music & Arts Festival at the Empire Polo Field on April 14, 2012 in Indio, California.
Photo: Karl Walter/Getty Images
Last month, Azealia Banks took to the Internet to announce that she wasn't a rapper anymore and could henceforth be considered a "vocalist." This wasn't exactly a statement about her creative direction or songwriting ambitions; I doubt anybody saw it and imagined she was going to start using her voice differently. It was about media and the strange mix of rules and exaggerations — like a cross between tabloid journalism, professional wrestling, and neighborhood gossip — governing certain corners of what some would call "the rap game." ("Whatever the fuck that means," wrote Banks, a woman whose casual Twitter talk the Internet has dutifully enlarged into several tedious rap-game "beefs.") Her moment of exasperation passed soon enough. It was fascinating, though, to think about what Banks might have been doing in that moment, something a lot of artists surely wish they could do — making an explicit statement about exactly which games she was and was not playing, so we'd all know exactly which set of rules to judge her on. If being a rapper means having banal arguments with T.I. via morning radio shows, then sure, just be something else.
As far as her recordings go, yes: Banks is certainly good at rapping. She's also good at that staccato mix of singing, chanting, attitude, and preening that constitutes the modern pop vocal. If we're interested in a firm definition of what she excels at, though, I'd suggest we could nudge it even further past "vocalist": Listen to the nineteen tracks collected on Fantasea, the mixtape she released this month, and some of the main things you hear are a host, a curator, an importer, and a stylist. So far, Banks has done a great job of collecting interesting dance music, threading it around her own themes and ideas, and pattering around its rhythms and rises enough to give it a human face and personality — that extra layer of kick that makes the difference between a great dance twelve-inch and a pop song. (It became abundantly clear, somewhere around the 20-millionth view of her video for "212," that a producer couldn't ask for a better "human face and personality" than Banks in a smug grin and dirty mood.) It doesn't much matter whether the voice is rapping or singing or what: This is the job description of a pop star.
Her style pieces and imports come from a clutch of producers, many of them British, with a knack for taking dance-music sounds roughly as old as Banks herself — the elegant twitch of early-nineties house, the dizzy rush of U.K. rave — and pulling them into strange new watery shapes. Banks's recent EP was called 1991, and its final cut had her rapping over "Pineapple Crush" by the Nottingham producer Lone, full of vintage ravey chord stabs and drum-machine clatter. Fantasea hops one step forward and starts with a reworking of a track from 1992 ("Out of Space" by the Prodigy, from back when that act was making tinny, speedy rave tracks); later, it drops in on another single from that year (Jack & Jill's "Work It Girlfriend/Fierce Talk," with its sample of a man talking, fiercely, about vogue ballrooms). Sure, Banks finishes the set with a beat once used by her fellow Harlem rappers Dipset, slowing down her flow and channeling her inner Cam'ron; she's done the obligatory Diplo-produced drumline track. But the songs that really mark this collection are the ones with a wonky depth to them, from producers like Ikonika (Sara Abdel-Hamid) and Machinedrum (Travis Stewart) — and the ideas that mark it come in those leans toward ball culture, like a quick take on Zebra Katz and Njena Reddd Foxxx's "Ima Read."
I mention the production — this list of names worth investigating independent of Banks herself—because the thing is that Banks, for all her vocal flexibility, tends to run in one gear. She's haughty, lovable, and cheerily dismissive, smiling and sneering around herself with mean-girl panache. She drips with confidence and arrogant grins, and keeps up a high-speed flow that tumbles through the songs like another layer of drum machines. It's a great thing to hear, from a rapper or a club track, and it fits nicely with Banks's taste for vogue and ballroom culture. Part of the point of those spaces, after all, was for people to check their struggles and fears at the door, and act out pure glorious strength, confidence, and glamour on a runway or dance floor. But it does keep the ear focused on all the styling Banks surrounds herself with, the mermaid-fantasy synths and deconstructed dance sounds. It'll be interesting to see what happens if her full-length debut, coming sometime this fall, tries to push her further up front — making her the pop star in the spotlight, not the toaster pushing her sonic vision along.
A funny coincidence: You could switch from listening to Fantasea to listening to another recent freebie from a young queer female rapper — Angel Haze's fourteen-track Reservation — and get a nice version of whiplash from the shift. Reservation starts off with the sound of a music box playing "Over the Rainbow" and proceeds to Haze rapping with heart-tugging earnestness, addressing her family members on a track called "This Is Me." She raps about their break from a cultlike religious sect, about her mother growing "reckless and destructive," about "every night we starved ourselves to sleep," about how everyone "made it through the pain." Haze has the ability to talk shit with every bit as much flair as someone like Banks, and some horror-minded threats to boot; on "New York," she floats, crisp and deadly, over a bed of ominous synths and handclaps, following a line about hanging someone with the announcement "I'm Satan." But on this collection, she isn't checking any other feelings at the door — she tells stories about love and struggle and, at one point, sexual abuse, risky and earnest and vulnerable stuff, the sorts of tales that might come off like corny-serious platitudes if she weren't filling them with detail, earthy warmth, and a kind of seething desperation that feels as much like Eminem's as anything else. (In the past, she's shot for Eminem's variety of violent-neurotic rant, too.)
The beats on Reservation aren't cool or stylish the way Banks's are (though a quick collaboration with Das Racist's Victor Vazquez might attract a few hip ears). The personality behind them doesn't seem interested in being too cool or stylish, either, especially if you define cool as a kind of sweatless self-satisfaction: Haze may enjoy describing the number of fucks she gives as being either "zero" or "not one," but she always sounds like she cares, a lot, maybe sometimes too much for her own good. This is a very different framework, a different "game," than the one Banks is operating in: Midwestern emo gut-spilling, with the artist's personality front and center, versus big-city transcontinental chic. It's kind of a treat to hop from one to the other and watch them operate at very different temperatures, one filling in the other's gaps.