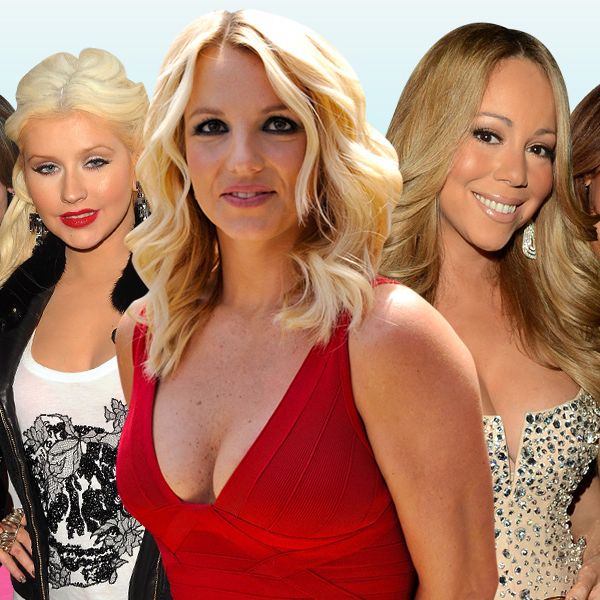 It started as a simple, almost innocent idea: assign a past-her-prime chanteuse to the judges' desk of a singing competition show where she could offer the hard-won advice of one who'd made it while simultaneously boosting her own career. But with Monday's announcement that Mariah Carey would be joining the panel of American Idol, the Diva Arms Race — which started with Paula, then escalated with J. Lo and Christina, and now has topped out with Mariah and Britney — has entered its next stage. Could television could potentially be headed toward its first full-fledged, live-superstar freak-out?
In all of pop culture there are perhaps no two stars less likely to sit quietly and smile prettily until it's their turn to make some gentle supportive remarks than Britney Spears (who will sit as a judge on Fox's X Factor when it premieres in September) and Mariah Carey. The former is practically the inventor of the postmodern live celebrity disintegration, having descended in a matter of months from glossy teen princess to head-shaving, cussin', crotch-shot-flaunting, paranoid-gibberish-spewing disaster. In the years since her nadir, she has managed to somewhat take back control of her image, and through carefully staged, very limited appearances has begun the task of rebuilding. But so unprecedentedly public was her fall, that watching Britney at the judges' desk will be like watching a high-wire act. Every episode will contain the possibility that she could crash down at any moment.
Whispers of instability are part of Carey's permanent backstory. Throughout her career, rumors of breakdowns, feuds with other performers, and chronic stage fright have tailed her like the family dog. The tough-talking singer is also known for her brutal tongue, having, among other things, scolded one of her backup singers during a live performance. In the public's mind, from the second Carey sits down behind the judges' desk, the clock will be ticking until she loses it at a contestant. In other words, there is potential in both cases for "great television."
This was all probably inevitable. Born in the ruins of Star Search, the singing-contest era came of age as a genteel throwback to simpler days of television; a celebration of big-voiced, big-hearted balladeering that existed at the opposite end of the spectrum from the hair-pulling spectacles of Temptation Island or Bad Girls Club. But a nice, civilized competition never stood a chance in a TV landscape increasingly dominated by Dance Mom–ing, hair-pulling, and Real Housewives–ing. A singing contest, by nature, is ill-equipped to compete with the last days of the Roman Empire tone that rules the rest of the airwaves. But the shows have tried, upping the drama in every way they could.
In the beginning, there was only one, and for better and worse, the tortured ride of Paula Abdul set the course for what was to come. When Abdul returned to public consciousness on the little-anticipated summer replacement series American Idol in 2002 after a long period in the wilderness, her presence inspired stunned double-takes from many contestants. In the years to come, though, Paula would show what a slot on a television Goliath could do for a fading star. Before Idol, Paula would have been hard-pressed to book a supermarket opening. But after a couple of years serving as the openhearted good cop to Simon Cowell's bad, she was recording albums again, producing her own shows, introducing a QVC line — her name once again everywhere.
However, there was another side to Paula. No season went by without some sort of "incident." From arriving on set after the show had begun, to seeming intoxicated on air, to accusations of inappropriate fraternization with the contestants, Paula-on-the-Edge became Idol's most fascinating subplot. It proved ratings gold.
Attempting to emulate Abdul's formula, Idol rival The Voice recruited its own teetering Diva, Christina Aguilera, in spring 2011. But Xtina's Voice run has proved what might be the only alternative to the path of Paula: fairly boring normality. Aguilera has earned points for being constructive, supportive, and down-to-earth. But a relatively drama-free diva? (Her feud with Adam Levine aside.) What's less interesting than that? The Voice, after initial enthusiasm, saw its ratings fizzle, falling short of knocking Idol from its throne at season's end with 15.7 million viewers to Idol's 19.8. (It did, however, nearly match Idol in the all-important 18 to 49 demographic.
In between Paula and Xtina (and following the forgettable stints of Kara DioGuardi and Ellen Degeneres), Idol brought in a star renowned for her fiery personal life, Jenny From the Block. At first, Jennifer Lopez's presence helped bring Idol back from the brink, and the show posted an actual ratings increase following its post-Cowell dip. For Lopez, the seat pulled her career out of the abyss. However, the glamour wore thin with week after week of milquetoast judging. The Diva failed to combust and the crowd moved on, sending Idol ratings crashing once again.
Meanwhile, on The X Factor, the original judiciary Diva herself, Paula Abdul, made it through the show's premiere season without a single meltdown, showing herself to all as funny, intelligent, and, to all appearances, completely sane. Her firing was announced minutes after the season's close. To replace Paula, the show turned to the singer who has set the bar for public meltdowns: Miss Britney Spears. And here we are full circle with two roads stretching out ahead of us: Down one is the measured approach; down the other, potential madness lies.
Now the Divas stare each other down from across the span of the Fox lineup. The expectations for each could not be higher. Will Britney start speaking in tongues? Will Mariah rip some poor hapless young singer to shreds as America gapes on? Will either make a difference when it comes to ratings? The coming season will tell, but the one thing they almost certainly cannot do is be helpful, supportive, totally down-to-earth judges. Let's be honest. That's not why we'll be watching.