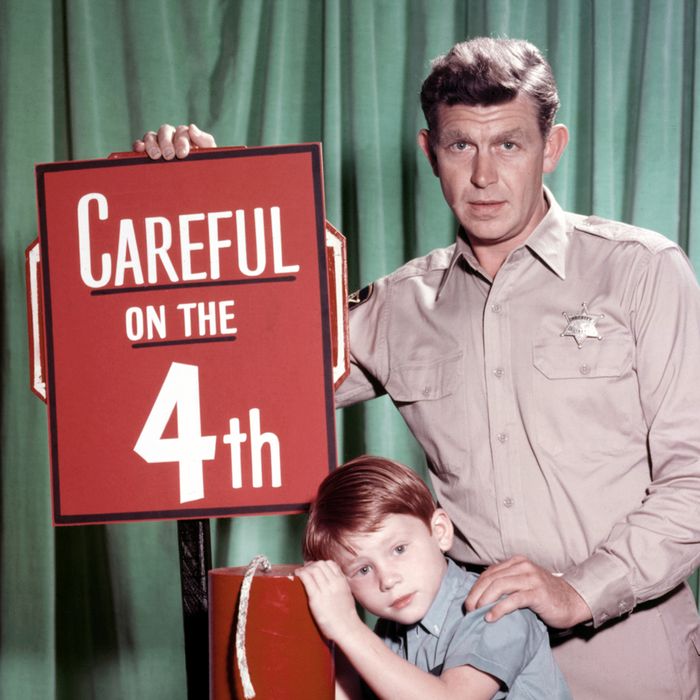 Andy Griffith, US actor, and Ron Howard, US actor, pose beside a large firework, with a sign reading 'Careful on the 4th' in a publicity portrait issued for the US television series, 'The Andy Griffith Show', USA, circa 1963. The sitcom starred
Photo: Silver Screen Collection
Andy Griffith, who died this morning at 86, was an easygoing star, the sort of performer that you were always glad to see. He had comic, dramatic and musical chops, and showcased them in nightclubs, on Broadway, on the radio, on TV (The Andy Griffith Show, Matlock) and in films (notably A Face in the Crowd, which starred Griffith as folksy demagogue Lonesome Rhodes). He got a Tony nomination as best actor in a musical for 1960's Destry Rides Again, won a 1997 Grammy for Love to Tell the Story: 25 Timeless Hymns, and was awarded the Presidential Medal of Freedom in 2005. But for a beloved artistic polymath, Griffith never took himself too seriously. No muss, no fuss.
Born June 1, 1926, in Mt. Airy, N.C., Griffith got a music degree from the University of North Carolina at Chapel Hill, taught school for a while, recorded a 1953 monologue titled "What It Was, Was Football" that sold 800,000 copies, then moved to New York to try to make it in show business. He quickly became a regular presence in the early days of TV (on The Steve Allen Show and The Ed Sullivan Show, among other variety programs), then hit it big in three versions of Mac Hyman's novel No Time for Sergeants: a live, televised play; a Broadway production, and a feature. Griffith's Sergeants character Will Stockdale is a hayseed drafted into the U.S. Army, a perfect fit for Griffith's rustic energy. (In the Broadway version, he played opposite his future sitcom cast mate Don Knotts as Cpl. Manual Dexterity.) In retrospect, Stockdale was the key role of Griffith's career. He played variations of the character throughout his life: dumb and wily, lovable and menacing.
The story of his A Face in the Crowd character Lonesome Rhodes reads like a perverse alternate-universe version of Griffith's rise to fame. As scripted by Budd Schulberg and directed by Elia Kazan (following up on their multiple Oscar-winner On the Waterfront), the character is a funny, sexy, guitar-strumming galoot who gets discovered in a jail cell by a radio reporter (Patricia Neal) and sold as a right-wing puppet version of Will Rogers. An opportunist above all else, Rhodes becomes a star on radio, then graduates to broadcast TV, where he sells a quack vitamin supplement called Vitajex, plays political kingmaker, and convinces working people to act against their self interest by repackaging the ruling classes' greed as if it were homespun "common sense."  The phony rebel conservatism of Lee Atwater, Rush Limbaugh and Fox News Channel was born in this film, which is ironic considering that it was meant as a cautionary tale. "This whole country's just like my flock of sheep," Rhodes boasts. "Rednecks, crackers, hillbillies, hausfraus, shut-ins, pea-pickers - everybody that's got to jump when somebody else blows the whistle…They're mine! I own 'em!"
Griffith's sheriff and widowed single dad Andy Taylor on The Andy Griffith Show was the flipside of Rhodes – a man who really was as charming and simple as he appeared to be, and who meant no harm to anyone. The series, which ran from 1960-68 on CBS, is rightly celebrated as one of the most relaxed and affable sitcoms ever made, but in its sneaky way it was influential, too. Although Griffith could be a volcanically intense performer, his character on this series tended to be the most reflective and reactive person in any given situation. While Knotts' Sherriff Barney Fife, Frances Bavier's Aunt Bee, Gomer and Goober Pyle (Jim Nabors and George Lindsey) and other oddballs sparked misadventures and misunderstandings, Andy acted as the town's diplomat and problem solver, brokering truces and restoring order while trying to instill good values in his boy Opie (Ron Howard). The beloved sitcoms put out by MTM Enterprises in the 1970s (including The Mary Tyler Moore Show, The Bob Newhart Show, WKRP in Cincinnati and Taxi) all adopted this center-of-the-storm approach to casting. 
Although Griffith was usually the calmest person in the room, he was never dull. He was a great listener who made it seem as though Andy loved the humanity in the town's residents even when they irritated him to no end. The way Griffith played Andy, you just knew that he was a social person who treated police work as a chance to watch folks be themselves.  He didn't settle into this groove right away, though; early on, he played Andy much more broadly. "The second episode was called 'Manhunt', and I knew by that episode that Don [Knotts] should be the comic and I should play straight for him," Griffith said in a 1998 interview. "That made all the difference. Then Mayberry became a living town. We had all the comic characters that came on and I played straight for them. So Mayberry really was the star of the show."
But when the show took the occasional turn into melancholy or darkness, Griffith could still bring the dramatic heat. The episode in which Opie kills a bird and Andy treats it as an opportunity to teach the boy about the reality of death and the importance of taking responsibility for one's actions is a high point in 1960s TV, a little masterpiece of emotional honesty.
Griffith became a producer in 1972, acted here and there (he was in a short-lived sci-fi series titled Salvage), was stricken with Guillain-Barre syndrome and recovered to the point where he felt strong enough to star in the detective series Matlock (NBC and ABC, 1986-1995), playing a cheap, vain, brilliant lawyer who disarmed people with his folksy charm. (It was Grandpa Abe Simpson's favorite show. "I'm an old man," he moaned. "I hate everything but Matlock.") He was a pitchman for Ritz Crackers and AT&T, among other companies. Over the decades he played parts in an array of TV movies and theatrical films (including the villain role opposite Johnny Cash in 1983's Murder in Coweta County and a small role in Adrienne Shelly's 2006 film Waitress). He survived a heart attack and quadruple heart-bypass surgery in 2000, had hip surgery in 2007 after a fall, and kept performing. He was always alert, direct, engaged. Whenever he was onscreen, you believed him.