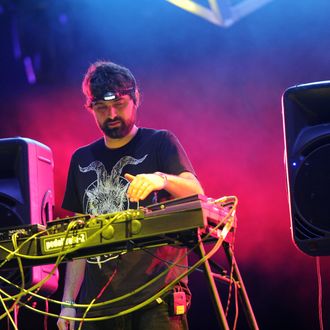 Photo: Kevin Winter/2011 Getty Images
First things first: Maybe we forgot to tell you that Animal Collective has a radio show now. It's true! They do. And when they are not making prank phone calls to inform local pizzerias that the refrigerator is running, they are using the time to debut new music. Panda Bear hosted last night's episode, and he premiered "Today's Supernatural" — the loud, trippy, nontraditionally spooky lead single of Centipede Hz, due September 4. This'll shake you right out of whatever weekend hangover you've got going.
And in case that was too jarring for 9:15 a.m. on a Monday morning, here's "Day Four," the latest from Bloc Party. So soothing (relatively).
One more treat: another song from the St. Vincent-David Byrne collaboration is streaming on their wesbite.  "Weekend in the Dust" is the new one.  Enjoy.