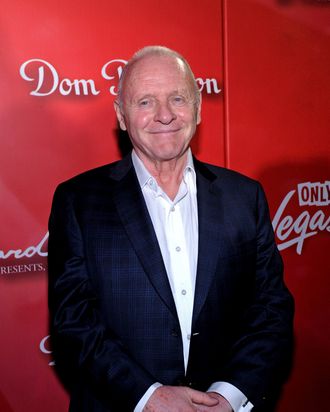 Actor Anthony Hopkins arrives at the Keep Memory Alive foundation's "Power of Love Gala" celebrating Muhammad Ali's 70th birthday at the MGM Grand Garden Arena February 18, 2012 in Las Vegas, Nevada. The event benefits the Cleveland Clinic Lou Ruvo Center for Brain Health and the Muhammad Ali Center.
Photo: Ethan Miller/Getty Images
The famously aged Methuselah will be played by Anthony Hopkins in Darren Aronofsky's upcoming Biblical epic Noah, the filmmaker announced on Twitter today. Russell Crowe will lead the movie, though Crowe says his children are less excited about Crowe's newly restored tentpole-toplining power than they are about his costar, Emma Watson: "My kids are flipping out that I'm going to work with Hermoine," Crowe tweeted.