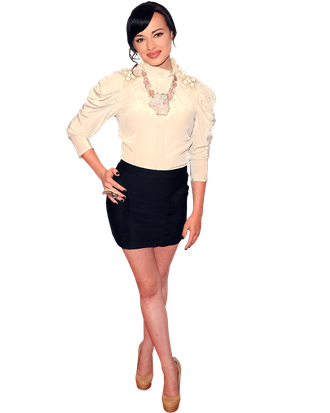 Photo: NDREAS BRANCH/Patrick McMullan
MTV's Awkward. is a darn good coming-of-age comedy in which Ashley Rickards plays Jenna, a high school wallflower who captures the attention of two good-looking nice guys. Lots of teen angst ensues. Rickards, 20, didn't go to high school for very long (she graduated when she was 15), preferring instead to pursue acting and screenwriting. She talked to Vulture about going to one very weird prom, why she considers herself a reverse Method actress, and where her dark streak comes from — and she means Gaspar Noé dark.
The first thing your publicist told me about you was that you are a card-carrying member of MENSA. What does that buy you?
I get their newsletters and MENSA Weekly Brainwaves, which is so dorky but so fun. I went to a school where you had to take an IQ test to attend. I think the deal with MENSA is you have to be in the top 2 percent, so I got in. Frankly, the reason I joined MENSA is because I was dating a guy at the time who spoke five languages and could solve a Rubik's Cube literally with his eyes closed because it's just an algorithm. Being with a person who was very intimidating, it was my way of saying, "You make me feel like an idiot, but maybe this makes me feel like less of one."
Was he happy when you got into MENSA?
No, he didn't care. But Latin guys are sort of my thing, and he was Latin. I was acting very much like Jenna in season one, honestly. I just think they're so romantic and amazing. They're just, I don't know, chivalrous and very charming.
You graduated high school when you were 15 — did you do that so you could act full-time?
Yeah, the labor laws and work permits as a minor are pretty complicated. You can only work a certain number of hours. So I just started going through my curriculum at school and began handing in stuff early. I also always had a problem with the education system, in general, but that's a whole other pickle.
What kind of problem?
So much is standardized and value is put on these tests that don't allow for each individual to learn as an individual. No two of us are alike in life; to me, it's a no-brainer that no two people would learn the same way. I'm not saying standardized tests are the worst ever, but there's an in-between and I don't think we're there yet. That's what I mean when I say I have an issue with it. There's no way a kid can learn in a class with 40 to 45 people. I had the power to get out of that system and pursue things that I wanted to do and I did that.
You're on a show about the high school experience. Is there anything you now feel like you missed out on?
I mean, I have no idea what a high school party looks like. I was just with my friend, and we were walking down Venice and there was this gathering of people playing Bongo drums, and so after dinner we sat down with them and played Bongo drums for a while. That's the closest thing I've gotten to a high school experience, meeting strangers and just hanging out with them.
What about prom?
I did go to proms, just not my own. I went to one with this guy, he was 17, and at his school everyone got a newsletter about the rules of the prom and one of them was "no horizontal dancing." They had little stick figure diagrams explaining what not to do. One stick figure was laying down on its stomach like a failed worm with a big red X through him. I had to sign it promising I wouldn't horizontal dance. Strictly vertical.
On Awkward., Jenna's torn between two great guys. How would you tell her to resolve this non-problem?
Well, I'm 20 and she just turned 16. It took a long time and a lot of hurt to come to the conclusion that you never fall out of love with somebody. You just let go and move on. That first love is so intense, you feel like your feelings are just going to eat you up whole. There's no perspective when you're young. That's the accurate thing about [Awkward. series creator Lauren Iungerich's] writing. After my first boyfriend, I didn't date for two years. The only advice I could give Jenna is to move on from Matty, but I mean, I'm only 20. I don't even know if that's right.
How can Jenna move on when Matty's been taking his shirt off all season? MTV really advertised the hell out of that.
The thing with him being shirtless, it's not any formulaic teen thing we're doing with that. Beau Mirchoff's acting speaks for itself. It just so happens he is also very good-looking and is in great shape. It lightens the mood in a lot of episodes, actually, his being shirtless. It's silly. In real life, I would love to have a Beau hologram to distract people while I think of how to get myself out of the awkward situations I put myself in every other day.
What is your favorite word the show has made up?
I'm sort of a reverse Method actor. In my personal life, I become my characters. After One Tree Hill, I started dressing in Converse and ripped jeans and hoodies. On Awkward., it manifests in how I speak. I'm still getting out of it right now. I'll say things like, "That computer is 'jank,' or the other day when I was giving someone relationship advice, I said, "You guys need to DTR," which is "define the relationship." I even use her words in the stage directions of the scripts I'm writing.
What are your screenplays about?
I think I want to talk about them more when they come to fruition, but they're both dark dramas — independent films, for sure. I've also got my poetry book. I hope at some point these things can all be shared or put in stockings. Maybe not for an 8-year-old's stocking, though.
Why do you think your work is dark?
Before Awkward., I was known for being a dramatic actress. It's what I'd be pulled into auditions for to the extent that when I was reading for Awkward., my agents were calling MTV asking, "Is she funny? Does she need a funny coach? Because we can get her one." But I write the type of material I'm most attracted to. My favorite movies are Natural Born Killers, Requiem for a Dream, Enter the Void. I mean, I'm not writing Gaspar Noé's head-smashing scene in Irreversible or anything; I'm not there yet. But my stuff is completely different from Awkward., although even that show is a bit of a dark comedy.
Speaking of dark comedies, the next movie you've got coming out is Struck by Lightning, which stars and was written by Glee's Chris Colfer. Did he give you any advice about getting a film made?
Not yet, but we talk. As an artist, he really takes control. I was texting him the other day to say, "Hey, what's happening?" and he texts back this list and it's everything I want to do. He's on tour to promote his first novel; I have a book of poetry I want to publish. He got his first script made; I'd like to get my script made. He's running all over the world; I wanna run all over the world. He's just brilliant. I told him, "I'm not going to talk to you anymore because you're everything I want to be and it's annoying."