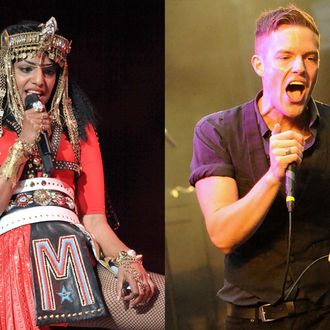 The new music spotlight is certainly shining brightest on Frank Ocean this morning, but hey! Some other musicians that you have heard of are sharing their wares. Consider the following:
M.I.A., "Baby"
William Orbit produced, which raises the question: Did Madonna forgive M.I.A. for the Super Bowl fiasco and agree to loan out her musical bestie? Or did William Orbit hate MDNA more than he let on and decide to team up with Madonna's frenemy in protest? Final, most likely option: Was this recorded before any of those shenanigans went down? Discuss. (Or just nod along slowly.) Update: M.I.A. wrote it for Madonna, but this is the wrong version? So maybe someone leaked it to piss Madonna off.
The Killers, "Runaways"
God bless the Killers and their unabashedly cheeseball country-synth-rock schtick. Battle Born, their reportedly troubled fourth album, is due September 18.
Nas, "Bye Baby"
This one actually dropped last night, but it merits a quick revisit because: Yup, this is the Kelis song. A sample line: "Reason you don't trust men, that was ya daddy's fault." There's lots more therapy talk where that came from.